Are you interested in trying ginger tea for the first time?
You're lucky – we've got the inside scoop on the best ginger teas. From classic favorites to new and experimental blends, we've got something for everyone. Keep reading to learn more.
Ginger is a versatile ingredient with a distinctively warm and spicy flavor, making it an ideal option for anyone aiming to add some extra flavor to their daily tea routine. Once you find your perfect ginger tea, it's time to stock up.
Below you'll find answers to frequently asked questions as well as our top picks.
How We Choose The Ginger Teas on Our List
With many "healthy" alternatives on the market, it's challenging to figure out which ones are worth your money.
We're here to assist you. We've spent years talking with healthcare practitioners and health food store owners about the ginger teas they offer. We even ask for recommendations on products that they may not provide.
Then we examine hundreds of reviews and questions about several ginger tea products so that we can deliver you the most incredible options based on our research.
* We do independent research/study, and all opinions are our own. We may earn a small commission if you make a qualifying purchase through one of our links. We would love it if you could support our efforts.
Top Picks For You






#1 - Traditional Medicinals Organic Ginger Herbal Leaf Tea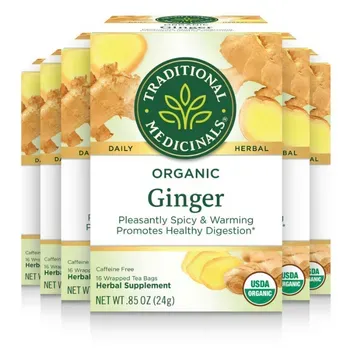 What we Love About It
Looking for a tea that will warm you up and help soothe your tummy? Traditional Medicinals Organic Ginger Herbal Leaf Tea is perfect for those chilly days or when you need an extra boost.
This tea is made with high-quality ginger rhizomes and has a pleasantly spicy flavor. The aromatic spices in this tea will tantalize your taste buds and leave you feeling renewed. It is perfect for a little boost in the afternoon or a soothing cup before bed.
Whether you enjoy it hot or cold, it is an excellent way to add extra flavor to your day.
Some Facts About The Product
Its serving size is 1 teabag and contains 16 servings per container.
Each serving contains the following:
0 Calories
1500 mg of Organic Ginger Rhizome
This tea is certified organic, non-GMO, kosher, and caffeine-free.
For the perfect cup of tea, follow these steps: Boil 8 oz. of water and pour it over one tea bag. Then, cover the cup and let it steep for 10-15 minutes. Squeeze the tea bag before removing it to get all of the goodness into your cup.
To reap maximum benefits, drink 1-2 cups daily; tea is delicious to drink before or after meals.
#2 - Yogi Tea - Ginger Tea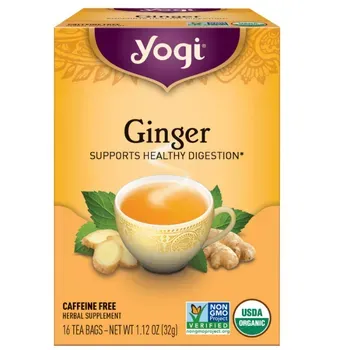 What we Love About It
Looking for a delicious and warming tea to enjoy? Yogi Tea's Ginger Tea is a perfect choice! This refreshing blend of ginger, lemongrass, and black pepper is ideal for snuggling up on a cold evening.
Not only is this tea delicious, but it's also packed full of health benefits. Ginger is known for aiding digestion, relieving nausea, and reducing inflammation. Lemongrass is a great detoxifier, helping to cleanse your body of toxins. And black pepper is known for its antibacterial properties.
So why not settle down with a cup of Yogi Tea's ginger tea tonight and let all your worries drift away?
Some Facts About The Product
Its serving size is 1 teabag and contains 16 servings per container.
Each serving contains the following:
0 Calories
2000 mg of Organic Proprietary Blend Of Herbs
The ingredients include:
Organic Ginger Root
Organic Lemongrass
Organic Licorice Root
Organic Peppermint Leaf
Organic Black Pepper
This vegan tea is USDA-certified organic, non-GMO, kosher, and gluten-free.
Boil water and let tea bags steep for 5 to 10 minutes. If you want a more potent brew, use 2 tea bags per cup. For best results, drink 1 cup of tea with your meal and another 15 to 20 minutes afterward.
#3 - FGO Organic Turmeric Ginger Tea Bags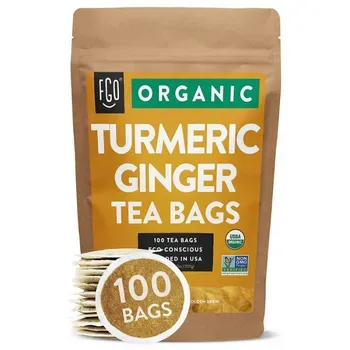 What we Love About It
Check out FGO's organic turmeric ginger tea bags for a delicious and healthy way to cherish the benefits of turmeric and ginger! Made with premium ingredients, including Abacá Hemp Fiber Paper, these tea bags are free of dyes, adhesives, glue, and chlorine bleach.
Turmeric is well-known for its anti-inflammatory properties, while ginger is renowned for its ability to soothe the stomach. Combined, these two powerful ingredients make for a delicious and healthful tea that can be enjoyed hot or iced.
So why not try FGO's organic turmeric ginger tea bags today? Your taste buds will thank you!
Some Facts About The Product
Its serving size is 1 cup of brewed tea and contains 100 servings per container.
Each serving contains the following:
0 Calories
0 mg of Caffeine
1600 mg of Organic Turmeric
200 mg of Organic Ginger Root
200 mg of Organic Cinnamon
The only ingredient includes certified organic turmeric ginger tea. All their products are certified USDA-organic and certified non-GMO.
#4 - Buddha Teas Organic Ginger Root Tea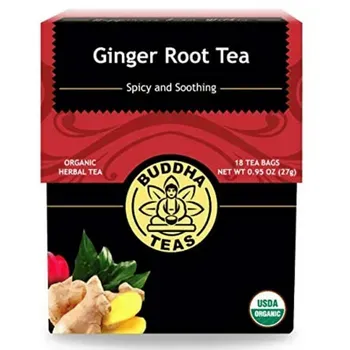 What we Love About It
Introducing Buddha Teas organic ginger root tea! Their tea is made from fresh, organic, or wild-harvested plants that have been gathered and packaged with conscious care. The tea bags used are manufactured from the cellulose fibers of the abaca plant. They are 100% bleach-free.
Ginger is also a great way to flavor your food and beverages. Their organic ginger root tea is a great way to enjoy ginger's benefits without added sugar or calories.
It is perfect for those who want an alternative to sugary drinks or to increase their intake of healthy antioxidants. With its warm, spicy flavor, it is sure to become a favorite among tea lovers everywhere!
Some Facts About The Product
Its serving size is 1 cup of brewed tea and contains 18 servings per container.
Each serving contains the following:
0 Calories
0 grams of Total Fats
0 mg of Sodium
0 grams of Total Carbohydrates
0 grams of Protein
The only ingredient includes organic ginger root. This vegan tea is organically certified by the USDA, non-GMO, kosher, and gluten-free.
#5 - Numi Organic Ginger Lemon Tea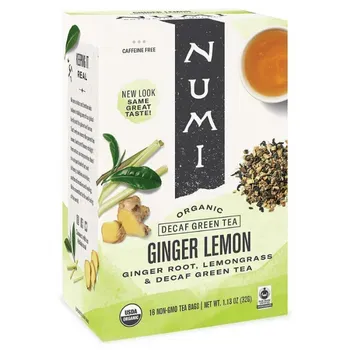 What we Love About It
Delight in the subtle and refreshing flavor of Numi organic ginger lemon tea. This premium white tea is blended with natural orange peel, dried schizandra berries, and lemongrass to create a rejuvenating and exotic cup.
Savor the delicate flavor of white tea with zesty citrus notes and a hint of spice. Numi's ginger lemon tea is USDA-certified organically grown and Fair Trade Certified, ensuring that their tea is grown with the utmost care for the environment.
Their commitment to quality extends beyond the cup – all of their teas are packaged in recycled and recyclable packaging. Experience the unique flavor of Numi's organic ginger lemon tea today.
Some Facts About The Product
Its serving size is 1 cup of brewed tea and contains 16 servings per container.
The ingredients include:
Fair Trade Certified Organic Decaf Green Tea
Organic Ginger
Organic Lemongrass
These tea bags are non-GMO.
To make ginger lemon tea:
Start by boiling water.
Allow it to cool for a minute, then pour it over the bag of ginger lemon.
Steep the tea for 2-4 minutes, and enjoy as your cup overflows with health.
Over-steeping can cause bitterness from tannin, so be careful not to let it steep for too long.
#6 - Newman's Own Organic Turmeric Ginger Herbal Tea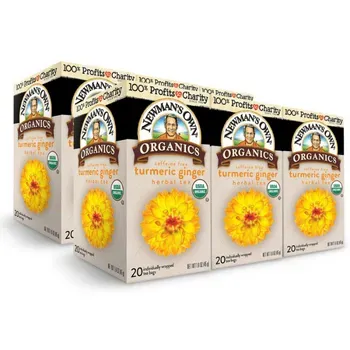 What we Love About It
This exquisite tea blend mixes spicy and savory flavors for a unique experience in every cup.
Indian turmeric gives this blend a vibrant yellow color while the heat of ginger is mellowed by a bright citrus flavor and natural sweetness from licorice root. Their organic ingredients are carefully selected to deliver the highest quality cup of tea every time.
You can taste the difference when you sip Newman's Own Organics turmeric ginger herbal tea. This is a tea that warms the soul and delights the senses. We anticipate you will love it as much as we do. Choose Newman's Own Organics today, and you won't regret it.
Some Facts About The Product
Its serving size is 1 cup of brewed tea and contains 20 servings per container.
The ingredients include:
Organic Turmeric
Organic Ginger
Organic Licorice
Organic Orange Peel
Organic Orange Oil
Organic Black Pepper
This tea is USDA-certified organic and kosher.
Frequently Asked Questions About Best Ginger Teas
A lot of people are interested in ginger tea, but they don't know where to start.
There are a lot of different ginger teas on the market. It can be challenging for you to know which one is best.
We've answered some of the most common questions about ginger tea here. Whether you want a caffeine-free tea or want to know how to make ginger tea, this section will guide you.
What Are The Best Brands Of Ginger Teas On The Market?
The following brands are the best ginger tea brands on the market:
Is It Good To Drink Ginger Tea Daily?
It is good to drink ginger tea daily because it has many health benefits. For example, ginger tea can help with digestion, nausea, and pain relief. Additionally, drinking ginger tea regularly can help boost your immune system and protect you against diseases. So yes, drinking ginger tea daily is a good habit for your health!
What Is Ginger Tea Best For?
Pure ginger tea is excellent for settling an upset stomach, reducing nausea, and helping to improve digestion. It is also a warming drink, making it perfect for cold winter days or nights. Additionally, ginger tea has anti-inflammatory properties, which can help reduce inflammation throughout the body.
Finally, ginger tea is a great detoxifier and can help support the removal of toxins from the body.
Should I Drink Ginger Tea At Night Or Morning?
Morning. Ginger tea is a great way to start your day because it's a detoxifying tea. It helps to cleanse and purify your system, and it has a warming effect on the body that can help to stimulate digestion. It can also be a good choice if you're trying to lose weight because it helps to suppress appetite and boost metabolism.
Is Ginger Good For Weight Loss?
Ginger is good for weight loss because it helps burn calories and increase your metabolism. Additionally, ginger root has anti-inflammatory properties that can help reduce bloating and water retention.
What Is The Difference Between Fresh Ginger And Dried Ginger?
Fresh ginger is the plant's root, and dried ginger is the powder made from grinding the fresh ginger root.
Fresh ginger has a stronger flavor and aroma than dried ginger. It's also softer and has a higher moisture content. However dried ginger is more concentrated and therefore considered more potent. It also lasts longer than fresh ginger.
Which Is Better, Green Tea Or Ginger Tea?
There is no tentative answer to this question, as green and ginger tea offers unique health benefits.
Green tea is a vital source of antioxidants and has been shown to boost metabolism and help with weight loss. Ginger tea is also high in antioxidants. It helps with digestion, nausea, and morning sickness.
Ultimately, the best tea for you relies on your individual needs and preferences. If you want a tea that is high in antioxidants, helps with weight loss, and boosts metabolism, then green tea would be a good choice. If you want a tea that helps with digestion and nausea, then ginger tea would be the better choice. Overall, ginger tea is preferred by most healthcare professionals.
Can I Add Other Spices Or Flavors To My Fresh Ginger Tea?
Yes, you can add other spices or flavors to your ginger tea. Some great options include cinnamon, lemon juice, cardamom, or honey. However, it's vital to note that adding too many flavors can muddle the taste of the ginger and make it less enjoyable. It is recommended to start with just one or two additional flavors and see how you like them. If you still want more taste, then add more next time to your herbal teas.
Is There Anything I Should Avoid Drinking With Ginger Tea?
Ginger tea is a great drink to have any time of day, and it's especially beneficial when you're feeling under the weather. However, there are some things you should avoid drinking with ginger tea, including alcohol and caffeine.
Alcohol can cause nausea and stomach upset, while caffeine can interfere with the absorption of ginger and make you feel jittery. So if you want to obtain the most out of your ginger tea, avoid drinking it with alcoholic or caffeinated beverages.
Can I Drink Ginger Tea If I Am Pregnant?
Yes, you can drink ginger tea while pregnant.
Ginger is an excellent choice for pregnant women because it helps to calm morning sickness and nausea. It also helps to improve blood circulation and digestion.
If you have major concerns, feel free to consult your trusted healthcare provider before doing so.
What Is Instant Ginger Tea?
Instant ginger tea is a beverage made from powdered ginger root and hot water. It is typically served sweetened and with lemon, and sometimes with milk or honey
Other Related Articles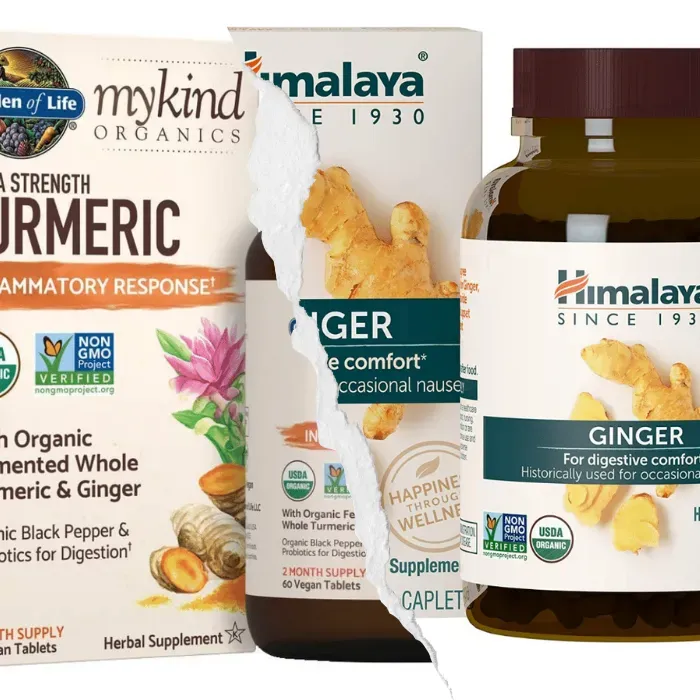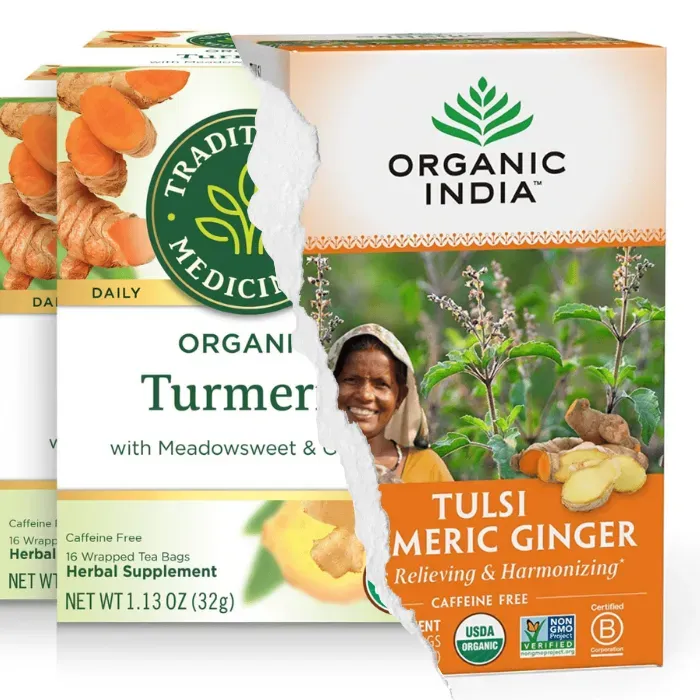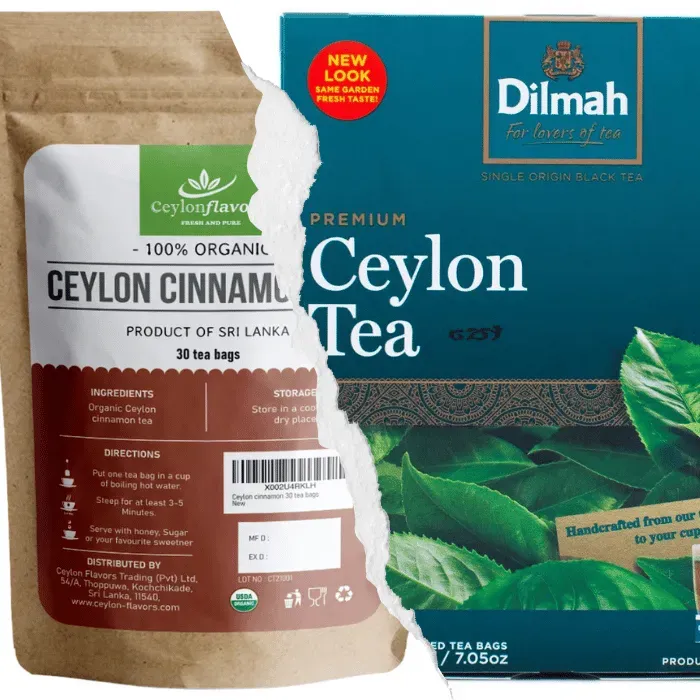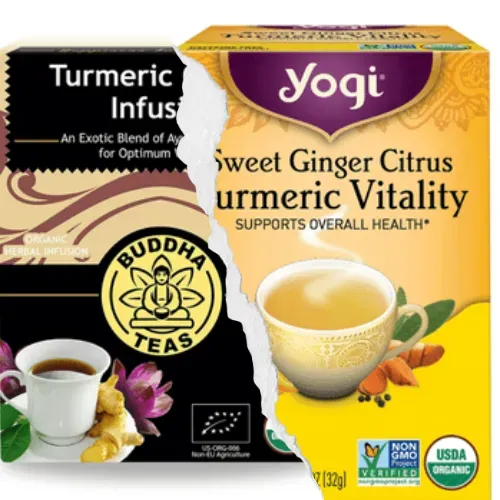 Best Ginger Tea For You
If you want to buy some ginger tea, our list will give you a better understanding of what's out there and what might best suit your needs. We hope you found one that was right for you.
Here is our list again:
Thanks for reading!