Do you wish to know about the best sandalwood essential oil?
Sandalwood essential oil is an excellent choice if you need an oil with various uses. It's perfect for aromatherapy and can also be used to make homemade skincare products.
If you would like to feel more relaxed, sandalwood oil is an excellent option. It has a woodsy aroma that can leave you feeling calculated and assured.
Keep reading to find our top picks and answers to some frequently asked questions.
How We Choose The Sandalwood Essential Oils on Our List
Sandalwood essential oil is a popular choice for health-conscious individuals. However, with so many different brands and options available, it can be difficult to determine which ones are worth your money.
We've spent years talking with healthcare practitioners and health food store owners about the sandalwood essential oil they offer. We even ask for recommendations on products that they may not provide.
Then we examine hundreds of reviews and questions about several sandalwood essential oil products so that we can deliver you the best options based on our research.
* We do independent research/study, and all opinions are our own. We may get a small commission if you make a qualifying purchase through one of our links. We would love it if you could support our efforts.
Our Top Picks For You





#1 - Gya Labs Sandalwood Essential Oils for Diffuser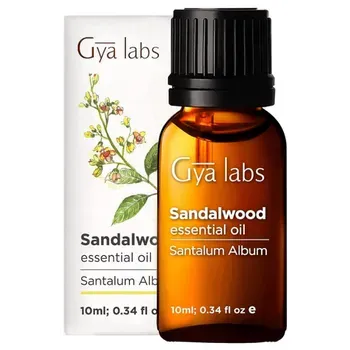 What we Love About It
Looking for an oil that can help you achieve luscious and healthy hair? Meet Gya Labs' sandalwood essential oil! Made from 100% pure and natural sandalwood oil; it's perfect for those who want to cleanse their scalp, get rid of dandruff, and promote hair growth.
Sandalwood oil can be used to hydrate dry skin and heal any existing blemishes--simply add 3 drops of sandalwood oil to a carrier oil. Always dilute before applying directly to the skin.
Use Gya Labs sandalwood essential oils today and feel the difference.
Some Facts About The Product
The volume of each bottle is 10 ml.
The ingredients include:
Santalum Album Oil (Sandalwood)
It is made from the finest steam distilled Indian sandalwood chips and is 100% pure & undiluted. It is rigorously tested by GC/MS, MSDS, COA, IFRA, etc.
Sandalwood oil is also suitable for both men and women. Simply massage 3 drops of the oil into your scalp with a carrier oil. You'll love how your hair feels softer, shinier, and fuller in no time!
#2 - Mary Taylor Naturals Sandalwood Essential Oil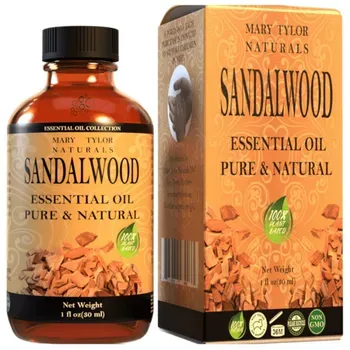 What we Love About It
Looking for an essential oil that is sure to please? Look no further than Mary Taylor Naturals sandalwood essential oil! This oil is 100% pure and natural and steam distilled from naturally grown sandalwood. This gives it a woodsy, musky aroma that is great for aromatherapy, massage, relaxation, and more.
If you suffer from headaches or insomnia, this sandalwood essential oil can be a great way to get relief. Simply add a few drops to your diffuser or apply topically to the temples or neck for soothing relief.
Plus, it comes in a glass bottle with a dropper for easy use. So why wait? Order your bottle of Mary Taylor Naturals sandalwood essential oil today!
Some Facts About The Product
The volume of each bottle is 30 ml.
The sandalwood essential oil in this product is 100% pure and of the highest quality. It is free of pesticides and other chemicals and is safe for external use only.
For other than aromatherapy use, dilute this oil with a carrier oil. This will assist you in ensuring that you get the maximum benefits from your experience and avoid irritation.
#3 -  Pure Gold Essential Oils - Sandalwood (New Caledonia) Essential Oil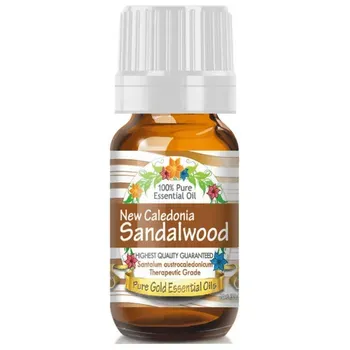 What we Love About It
Searching for a high-quality sandalwood essential oil? Pure Gold has you covered – their sandalwood (New Caledonia) essential oil is perfect for making homemade candles, lotions, soaps, body wash, and more. Plus, it smells incredible!
All their essential oils are sourced from the finest farmers and plants worldwide and bottled in the United States. So you can trust that you're getting a top-notch product when you purchase from them.
Don't wait – order your Pure Gold sandalwood essential oil today!
Some Facts About The Product
The volume of each bottle is 10 ml.
The only ingredient includes new Caledonia sandalwood essential oil. Their oil is 100% pure and completely undiluted. They're so confident in their essential oil that they offer a full refund if you're unsatisfied!
#4 - Florona Sandalwood Premium Quality Fragrance Oil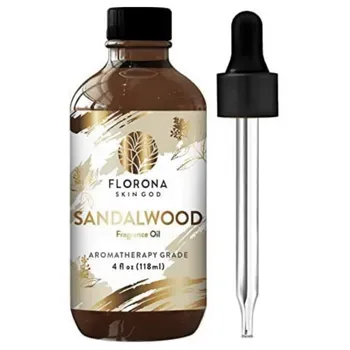 What we Love About It
Looking for an oil that can do it all? Meet Florona's sandalwood fragrance oil. This top-of-the-line product can be used for various purposes, from diffusing to promoting relaxation and focus to blending with carrier oils to soothe dry skin.
Their Florona sandalwood oil is derived from the finest sandalwood trees and has a rich, woodsy scent that is both calming and uplifting. Whether you want to create a tranquil home environment or moisturize your skin with an oil that boasts both therapeutic and aromatic benefits, this oil is sure to exceed your expectations.
Don't miss out on this must-have oil! Add Florona's sandalwood fragrance oil to your cart today.
Some Facts About The Product
The volume of each bottle is 10 ml.
The only ingredient includes sandalwood oil. They use only the highest quality sandalwood fragrance oil with no additives or fillers.
#5 - Sun Essential Oils 2oz - Sandalwood Essential Oil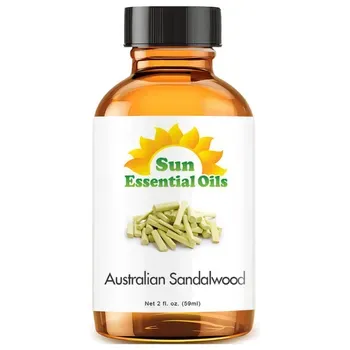 What we Love About It
Searching for a way to boost your mood and feel more relaxed? Add a few drops of Sun Essential Oils' sandalwood essential oil to your diffuser. The warm, woodsy scent of sandalwood has been used for centuries in traditional medicines and as a natural perfume. Let us remind you that it also has fantastic benefits for your mind and body.
Sandalwood oil has been shown to improve cognitive function and memory. So if you're feeling overwhelmed or just need a little pick-me-up, sandalwood oil is a great option.
And because it's all-natural, you can feel good about using it, knowing that you're not exposing yourself to synthetic chemicals or fragrances. Ready to give it a try? Order your bottle of Sun Essential Oils sandalwood essential oil today!
Some Facts About The Product
The volume of each bottle is 59 ml.
The ingredients include only Australian sandalwood essential oil.
They know that most customers purchase essential oil for aromatherapy or because of their alluring scent. Consequently, they test 100s of samples to guarantee that each batch of Australian sandalwood oil would be wonderfully aromatic.
Frequently Asked Questions About Sandalwood Essential Oil
Sandalwood essential oil is a popular choice for many people, but some are unsure of the best ways to use it.
We've created this frequently asked questions section to answer some of the most asked questions about sandalwood essential oil. This information can help you get started using this powerful oil in your own life.
What Are The Best Sandalwood Essential Oils?
The following are the best brands on the market:
How Many Types Of Sandalwood Essential Oils Are There?
There are three types of sandalwood essential oil: East Indian sandalwood (Santalum album), Australian sandalwood (Santalum spicatum), and Hawaiian sandalwood (Santalum paniculatum).
Each type has a unique compound composition that contributes to its characteristic scent. For example, East Indian sandalwood oil is high in sesquiterpenes, while Australian and Hawaiian oils are high in monoterpenes.
Each type of oil also has its unique therapeutic properties. East Indian sandalwood oil is prized for its cooling and sedative effects, Australian sandalwood oil is known for its anti-inflammatory and antiseptic properties, and Hawaiian sandalwood oil is used for its antidepressant and anxiolytic effects.
What Are The Benefits Of Sandalwood Essential Oil?
Sandalwood essential oil has a rich history of use in trivial medicine. It is said to have several beneficial properties, including:
Antiseptic: Sandalwood oil can be used to disinfect wounds and skin infections.
Anti-inflammatory: Sandalwood oil is anti-inflammatory and can reduce inflammation in the skin.
Sedative: Sandalwood oil has a sedative effect and can calm the mind and relax the body.
Antidepressant: Sandalwood oil has antidepressant properties and can be used to treat depression.
Antioxidant: Sandalwood oil is high in antioxidants and can assist in protecting the skin from damage caused by free radicals. These essential oils also reduce oily skin.
How Do I Use Sandalwood Essential Oil?
There are a few ways to use sandalwood essential oil. You can pour a few drops into your bath and put it in a diffuser. Blend it with a carrier oil and use it directly on your skin. It's a very versatile essential oil and has many beneficial properties.
Sandalwood essential oil is said to be calming and soothing and is often used as a natural remedy for anxiety and stress. It also effectively treats skin conditions such as acne, psoriasis, and eczema. And because of its pleasant aroma, sandalwood oil is often used in aromatherapy treatments.
Is Australian Sandalwood The Same As Indian Sandalwood?
No, they are not the same.
Australian sandalwood is Santalum spicatum, while Indian sandalwood is Santalum album. They have different chemical compositions and uses.
Australian sandalwood essential oil is used in aromatherapy, while Indian sandalwood is used in incense and perfumes. Australian sandalwood oil is also a key ingredient in many aftershaves.
Who Should Avoid Using Sandalwood Oil?
Sandalwood oil is a potent essential oil that should be used with caution. It's best for people who are already very healthy since it has a strong detoxifying effect.
For example, pregnant women or those who are breastfeeding should avoid using sandalwood oil because it can stimulate uterine contractions. And finally, those with skin allergies to trees in the Santalaceae family (sandalwood, cedarwood, and juniper) should avoid using this oil.
Can I Mix Sandalwood Oil With Rose Oil Or Other Essential Oils?
Sandalwood oil is one of the most well-known essential oils, renowned for its rich, woody aroma and various beneficial properties. But many people don't realize that you can blend it with other essential oils, such as rose or lavender, to create unique and desirable scents.
Each of these essential oils has its unique chemical composition, so the effects of any given blend will depend on what ingredients you choose to mix. However, even small amounts of sandalwood oil can enhance other fragrances, creating luxurious aromas that delight your senses.
So if you want an enjoyable way to try out new blends and create unique fragrances, try sandalwood oil. Whether you're a seasoned aromatherapist or just starting in this exciting field, this versatile and highly aromatic oil will bring you enjoyment and satisfaction. So get creative and have fun!
How Do I Know If My Sandalwood Oil Is Pure?
When analyzing sandalwood oil, there are a few simple methods to tell if the oil you buy is pure. The first thing to notice is the color of the oil; pure sandalwood oil should be light Gold, while impure oils will be darker in hue.
Another useful indicator is any sediment that may be present at the bottom of the bottle. Pure oil will not have visible sediment or solid particles, while impure sandalwood oil often contains small residual material.
Finally, it's essential to perform a smell test for purity; true sandalwood oil has a distinctly woodsy scent, while impure oils often have an unpleasant, rank odor. Using these easy methods to detect purity, you can ensure that you get the best quality sandalwood oil for your needs.
Why Is Pure Sandalwood Oil Expensive?
The high price of sandalwood oil is because it is a natural product, and the trees take a long time to grow.
Sandalwood oil is extracted from the wood of the sandalwood tree through a steam-distilled method. The demand for sandalwood oil has increased in recent years because it is used in aromatherapy. Sandalwood oil is also used in the manufacturing of certain types of incense.
The trees take about twenty years to reach maturity and can be harvested only once every two decades. So, the high price of sandalwood oil is due to its limited supply and the long harvesting cycle.
Can I Apply Sandalwood Oil Directly On the Skin?
Sandalwood oil is a popular and versatile natural remedy that can be used in various ways to improve your skin and overall well-being. One of the most effective methods of using sandalwood oil is to massage it directly into the skin, either in small amounts or diluted with another carrier oil such as jojoba or coconut oil.
This will help to soothe inflammation, promote healing, and moisturize your skin. Alternatively, add a few drops of sandalwood oil to your next bath or shower for an aromatic and rejuvenating aromatherapy treatment.
Before using sandalwood oil on your skin, it is essential to do a patch test initially to ensure you are not allergic to the essential oil. With careful use, sandalwood oil can be a powerful and versatile tool for enhancing your health and beauty from the inside out.
What Does Sandalwood Oil Mix Well With?
Sandalwood oil mixes well with a variety of other carrier oils and massage oils. Some popular combinations include jojoba oil, grape seed oil, and almond oil. It also integrates with essential oils such as lavender, rose, chamomile, and geranium. Play around and produce your own unique blends.
When used in aromatherapy, sandalwood oil is considered calming and relaxing. It's frequently used to improve mental clarity and spiritual awareness. In massage therapy, sandalwood oil is believed to help relieve tension headaches and promote deep relaxation.
Other Related Articles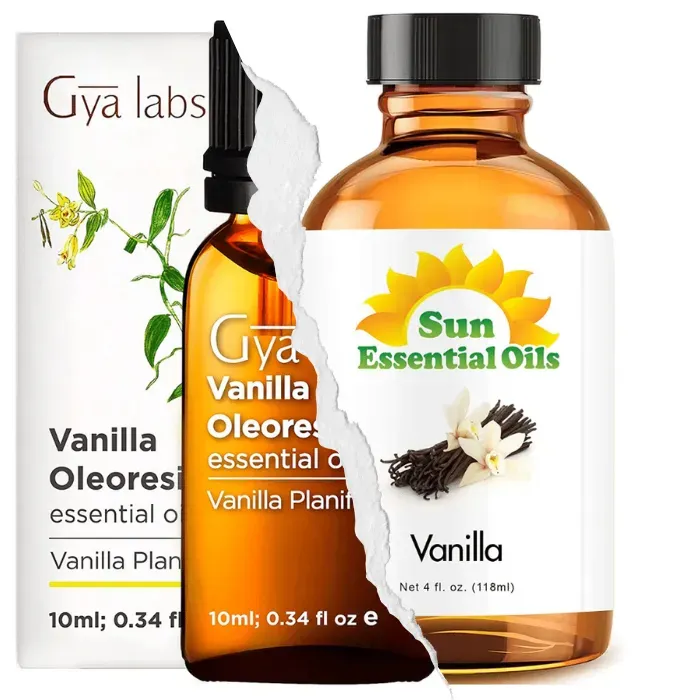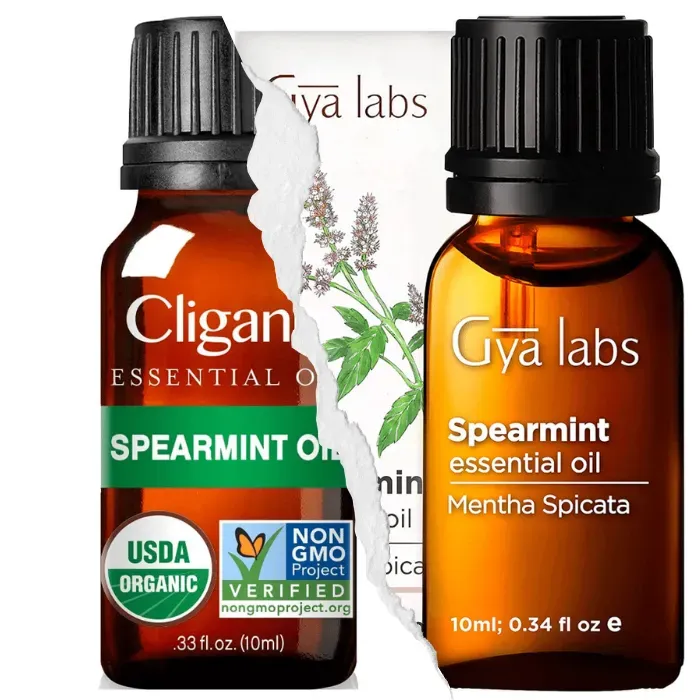 Best Sandalwood Essential Oil For You
If you want terrific, top-quality sandalwood essential oils, give our list a try. You won't be disappointed in the aromas, benefits, and uses of these luxurious essential oils.
Here is our list again:
Thanks for reading!