Has your doctor suggested you take selenium supplements? It might be because you have selenium deficiency and your body is craving this essential mineral.
Selenium is an essential trace mineral that's important for good health. It helps the body make antioxidants, which protect cells from damage. A lot of people don't get enough selenium in their diets, so taking a supplement can be a good idea.
However, not all selenium supplements available on the market are created equal! So it's important to do your research before you buy one. To serve the purpose, we've put together some of the best selenium supplements on the market and everything you would want to know about them.
If you want to find the best selenium supplement for yourself, keep reading through all the descriptions below and choose what you think is the best!
How We Choose The Selenium Supplements on Our List
It can be hard to know which healthy foods are really good for you, and even harder to figure out which ones are worth your time and investment.
But we're here to help. We've spent years discussing products with health food store employees and their owners. We've consulted with dozens of doctors and healthcare experts to get their recommendations for the best health foods on the market.
We even read through thousands of reviews and questions related to these products so that we can bring you the best finds and recommendations based on all the knowledge we've gathered.
* We do independent research/study, and all opinions are of our own. However, as an Amazon Associate we earn from qualifying purchases made through links on our site. We would love it if you could support our efforts.
#1 - Dr. Mercola Zinc plus Selenium Dietary Supplement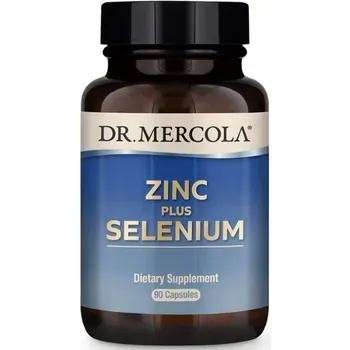 What we Love About it
Looking for a way to keep your immune system functioning properly?
Check out Dr. Mercola Zinc plus Selenium Dietary Supplement!
Zinc and Selenium, included in the formula, are both essential nutrients that play a role in supporting immune function. This supplement also promotes healthy cell growth and healthy inflammatory response. Overall, it helps keep you feeling your best.
Sometimes, supplementation alleviates the level of copper in the body which is an equally essential trace mineral. So, Dr. Mercola has also added Copper to this formula to avoid its deficiency.
Few Facts About The Product
Dr. Mercola Zinc plus Selenium dietary supplement comes with 90 servings in one pack. Each serving provides you with 15 mg of zinc, 200 mcg of selenium, and 0.25 mg of copper.
It is absolutely free of GMOs, soy, and gluten. If you are not satisfied with the product, you can return it and avail the no-questions-asked-money-back guarantee within 90 days of purchase!
It must be noted that the product supports your immune and overall health but doesn't cure any disease or condition.
#2 - Earthier Organic Selenium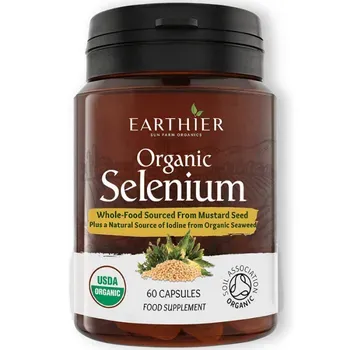 What we Love About it
Earthier Organic Selenium is the perfect supplement for anyone seeking superior health and purity. The ingredients of the supplement are harvested from nature using organic farming practices and the product is designed to provide a range of benefits. It complies with USDA Organic standards and does not contain any additives, fillers, binders, or unnecessary ingredients.
Specifically, selenium, iodine, and silicon dioxide included in the formula have a multitude of benefits including thyroid health, DNA synthesis, protection from oxidative damage, and bone and connective tissue health.
So if you're looking for an organic food supplement that meets the requirements of those seeking nutrition from mother nature, look no further than Earthier Organic Selenium!
Few Facts About The Product
Earthier Organic Selenium is a 100% certified product consisting of the goodness of organic mustard seed, organic Ascophyllum seaweed (Kelp), and organic bamboo extract.
It is gluten-and-soy-free and VEGAN friendly. 1 bottle is enclosed with 60 capsules making a good serving for two months.
Each serving provides 200 mcg of selenium, 7.5 mg of silica, and 231 mcg of iodine.
#3 - Global Healing Selenium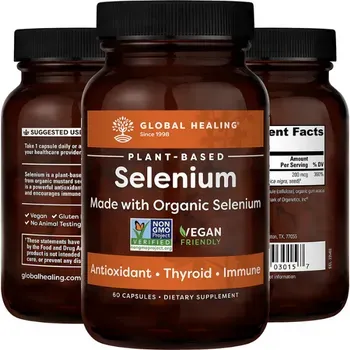 What we Love About it
Looking for a way to boost your antioxidant levels and protect your cells from damage? Global Healing Selenium is perfect for you!
The selenium in the product is derived from certified organic mustard seeds and is easily absorbed by the body. The product is designed essentially for maintaining a healthy heart and cardiovascular system, as well as supporting thyroid function. Most importantly, the product is produced in a cGMP-certified facility in Phoenix, Arizona, and is vegan and organic.
Give your body the protection it deserves with Global Healing Selenium!
Few Facts About The Product
Global Healing Selenium is a plant-based, vegan, dietary supplement including 200 mcg of selenium per serving. It doesn't include soy, gluten, dairy products, sugars, dyes, or fillers.
The product works best for both men and women suffering from selenium deficiency.
#4 - Peak Performance Whole Food Selenium Supplement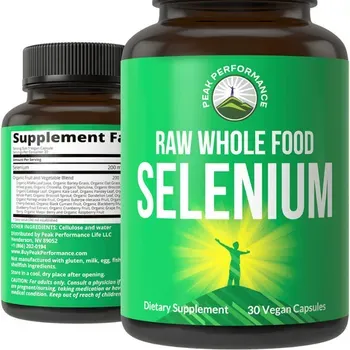 What we Love About it
Looking for a selenium supplement that is both vegan and delivers superior absorption?
Peak Performance Whole Food Selenium Supplement is your go-to option!
The supplement is third-party tested and committed to the highest standards for your safety. It ensures essential selenium supplementation for the immune system, thyroid support, heart health, and prostate health.
Add these vegan capsules to your daily routine and feel the difference!
Few Facts About The Product
Peak Performance Selenium is a whole food-derived supplement containing all-natural content and no cheap fillers! Also, it is absolutely gluten-free and has no GMOs as well.
The product, unlike many others, is tested for purity before being commercialized. The manufacturers assure that the product complies with USA Standards and GMP Regulations.
Each bottle comes with 30 pills for a full-month serving and each serving or capsule provides 200 mcg of selenium.
#5 - NutraWell Selenium with Vitamin E dietary supplement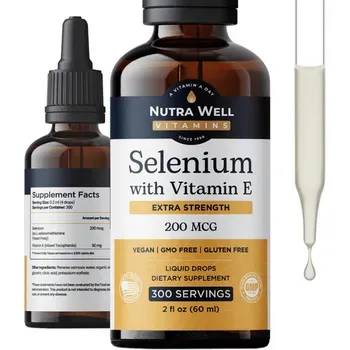 What we Love About it
Looking for a way to improve your health and skin? Check out NutraWell's Selenium with Vitamin E Supplement!
This organic liquid supplement is more effective than many selenium capsules and is perfect for supporting your immune system, heart, and skin health.
The best part is the vitamin E content! It is a powerful antioxidant that helps protect your cells from damage and gives you radiant and flawless skin.
To serve you with the best, NutraWell has its supplement tested and verified for quality. The company ensures its product's manufacturing and formulation in the USA.
Few Facts About The Product
This liquid organic selenium supplement has a serving size of around 4 drops with each serving providing the consumer with 200 mcg of selenium and 50 mg of vitamin E. It works great for your skin, thyroid function, and heart health. Also, liquid supplements are easy to consume and absorb.
These uncountable benefits of the product make it one of the best selenium supplements of all time.
Frequently Asked Questions About Selenium Supplements
Selenium is an important mineral that our body needs to function properly, but many people are not sure whether they have adequate selenium in their body or whether they should be taking a selenium supplement or not. What happens in the case of selenium deficiency and toxicity?
In this article, we answer some of the most frequently asked questions about selenium supplementation so that you can make an informed decision about whether or not you should be taking a selenium supplement. And what types suit you the best?
Here you go!
What is a Recommended Daily Dose For Selenium?
The optimum daily dose of selenium has not been firmly established, but most experts suggest a range of between 20 and 200 mcg per day. The form of selenium supplementation is also important to consider.
What is The Best Form of Selenium Supplementation?
Selenium is found in several different forms, including selenomethionine, sodium selenite, and methyl selenocysteine. Of these, selenomethionine appears to be the best absorbed and utilized by the body. Therefore, it may be the best form to take for supplementation purposes.
What Are The Effects of Selenium Deficiency?
Selenium is an essential trace element for human health. Selenium deficiency can cause hair loss, muscle weakness, cognitive decline, and infertility. It can also increase the risk of developing cancer.
What Causes The Deficiency of Selenium?
There are a few different things that can cause a deficiency of selenium. One is simply not getting enough selenium in your diet. This can be due to a poor diet in general or to eating foods that are low in selenium.
Another cause of selenium deficiency is certain medical conditions that prevent the body from absorbing inorganic selenium properly. Lastly, some medications can also cause selenium levels to drop.
What Happens in The Case of Selenium Toxicity?
Selenium is an essential trace mineral which means that the body needs it in only small amounts. Selenium toxicity is caused by too much selenium intake than the body needs.
Symptoms can include white patches on the skin, a metallic taste in the mouth, nausea, vomiting, and diarrhea. In severe cases, toxicity can also lead to heart failure and death.
The National Institutes of Health (NIH) recommends that adults consume no more than 400 mcg of selenium per day
How Can I Acquire Selenium Naturally?
Natural selenium is found in nuts, seeds, meat, poultry, and fish. The best sources of acquiring selenium naturally are Brazil nuts and sunflower seeds.
Most people in the United States get enough selenium from their diet, but people who eat a vegetarian or vegan diet may not get enough selenium. In that case, selenium supplementation is the best option!
What is The Best Brand For Selenium Supplements?
There is no "one-best" brand for selenium supplements. There a few great brands which are enlisted as follows;
Two popular brands/products that didn't make the list are Life Extension super selenium complex and Nutricost selenium capsules. They contain ingredients that we don't believe are beneficial to immune health.
Is it Better to Take Selenium in The Morning or at Night?
There is no right or wrong answer to this question. It really depends on what works best for you and your body's natural rhythm.
Some people find that they have more energy and better digestion if they take their selenium supplement in the morning, while others find that they feel better if they take it at night. Experiment a little and see what works best for you. Be mindful of the dose you are taking.
Best Selenium Supplement For You
Selenium is an essential trace mineral of your body. It supports the proper functioning of the heart, thyroid gland, and healthy immune system.
It is necessary to ensure an adequate level of selenium in your body to avoid any unhealthy consequences. The best way to do so is to acquire a diet rich in selenium like nuts and seeds having considerable selenium content. Otherwise, selenium capsules can work this for you!
We've listed some of the best supplements for you. It must be noted that all these supplements are safe to use and can be added to your diet easily.
Almost all of them are gluten-free, contain no artificial flavors or allergens, and are rarely linked with negative health outcomes. You can consume them with your favorite food without spoiling the taste!
Carefully read through the descriptions provided above and give one of our selected choices a try to feel the difference in your overall health.
Once again, here is the list for you!