Can't find the right vitamin D drops for your infant?
Vitamin D supplementation in an infants diet can be extremely beneficial and quite frankly, essential to its growth. Getting enough vitamin D is more widely known to aid in healthy, strong bones as well as in calcium absorption.
What isn't widely known is that vitamin D receptors are also found in the pancreas where it enhances the regulation and production of insulin; in the heart muscle where it enhances ventricular contractility; and in many other organs where it plays a crucial biological role.
Addressing vitamin D deficiency will ensure your infant gets more than just strong bones and ensure they have a strong immune system.

Vitamin D is commonly known as the sunshine vitamin because from direct sunlight the body produces vitamin D. Lighter skin tones and darker skin tones produce varying amounts of vitamin D from sun exposure.
You're doing a wonderful thing by searching for the best that you can find.
Your child will receive all of the benefits that it deserves and began its happy, healthy life on this planet with the right vitamin D supplement.
Keep reading below and you'll find our top picks for the best vitamin D drops that we could find for your infant.
How We Choose The Vitamin D Drops on Our List
Many members of our team practically live in health food stores and are parents ourselves so we're always on the lookout for the healthiest products for ourselves and our families.
We also consult with several holistic doctors and dentists that we see on a regular basis for their recommendations.
On top of that, we read thousands of reviews and questions related to these products and then present to you our best finds and recommendations based on all the knowledge gathered. We give vitamin D drops to our own infants so we know what most parents are looking for.
* We do independent research/study, and all opinions are of our own. However, as an Amazon Associate we earn from qualifying purchases made through links on our site. We would love it if you could support our efforts.
#1 - Mary Ruth's Organic Liquid Vitamin D Drops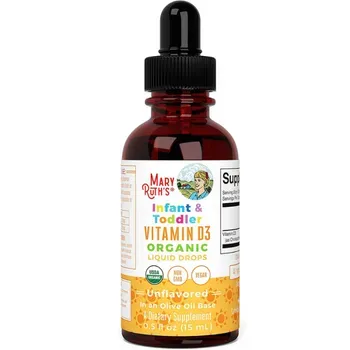 What We Love About It
These vitamin D drops are USDA certified organic making them non-GMO and free of many known harmful ingredients. The vitamin D uses extra virgin olive oil as it's carrier oil so there is no need for any natural flavors or artificial colors.
There is a pineapple flavor available with organic flavoring if you'd like.
To top if off it's also in a glass bottle so no concerns of plastic contaminants.
Facts About The Product
The serving size is 3 drops and there are 80 servings per container. There's 400 IU (10 mcg) per serving. They recommend 5 drops for ages 1-3. Besides the vitamin D3, the only other ingredient is organic olive oil so it's vegan, sugar free, soy free, gluten free, dairy free and corn free.
Interesting to note that it is a mother and daughter owned company inspired by all the right reasons.
#2 - Carlson Baby's Super Daily D3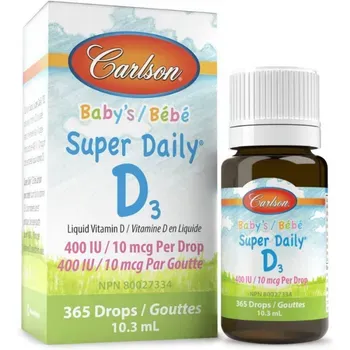 What We Love About It
These vitamin D drops have only 2 ingredients (vitamin D3 and MCT oil from coconut oil). It's priced at an affordable price point and has no artificial ingredients. We like that Carlson has also been in the supplement business since 1965 implying that her products are of good quality
Facts About The Product
These vitamin D drops do come in a plastic container with no dropper. You will have to drop it directly from the bottle. Each drop contains 400 IU (10 MCG) of vitamin D3 and there are 365 drops per bottle. All Carlson products are tested by a FDA-registered laboratory.
#3 - MaryRuth's Organic Vitamin D3 and Vitamin K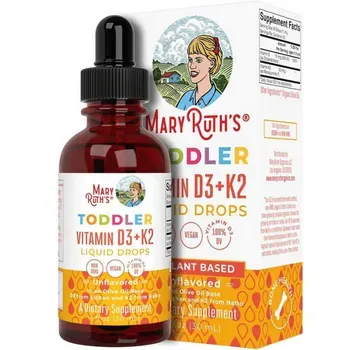 What We Love About It
We like that this is one of the few vitamin D drops for infants that also contains vitamin K. Many health care practitioners recommend you have both vitamins together for infants especially, as they enhance the benefits of each other in the proper bone development of a growing child.
Facts About The Product
It's USDA certified organic with the only ingredients being vitamins D vitamin K, and organic extra virgin olive oil as the carrier oil.
It comes with an easy to use dropper in a glass bottle so no concerns of possible plastic toxins.
Each serving has 600 iu (15 mcg) of vitamin D and 30 mcg of vitamin K2. A serving size is 30 drops and there are a total of 30 servings per bottle. You save 5% when you buy 2 bottles and 10% when you buy 3 or more bottles.
#4 - Mommy Bliss Organic Baby Vitamin D Drops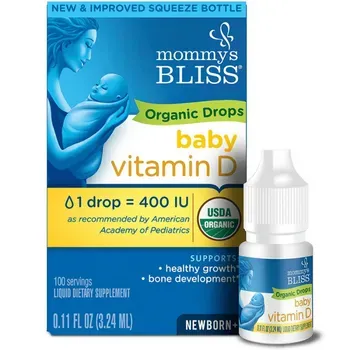 What We Love About It
We love that this is USDA certified organic with only vitamin D and organic MCT oil (from coconut oil). No artificial colors or flavors and its sugar free. The bottle isn't glass but it is BPA free.
Facts About The Product
The serving size is one drop and and there are 100 servings per bottle. Each serving contains 400 iu (10mcg) of vitamin d. There is no dropper, you squeeze it directly from the nozzle in the bottle.
Vitamin D3 Drops For Infants FAQs
We know from first hand experience that it can be time consuming and sometimes overwhelming to find the right products for your infant. You've just brought a beautiful new life into the world and time is precious.
We put this guide together along with some most frequently asked questions to help you on your journey of finding the vitamin D supplement that fits perfect for your precious little infant.
What is The Best Vitamin D Drops for Infants?
We hope that we've helped to answer this question for you in our guide with our recommended brands.
The best vitamin D supplements are those with natural ingredients and without harmful ingredients like artificial colors, preservatives and sweeteners; a glass bottled container is a plus and being certified organic is another step in ensuring there are no GMOs or other toxic ingredients included.
Vitamin D drops that combine vitamin K2 in it as well provides a powerful synergistic effect which enhances the benefits of vitamin D and calcium for your child's healthy growth.

How Long Do Infants Need Vitamin D Drops?
Some choose to stop vitamin D3 supplementation after the child begins to eat solid foods with the assumption that babies receive adequate vitamin d from the food that they now eat.
However, many health care practitioners argue that even as adults we are vitamin D3 deficient. Making supplementation a recommendation throughout most of our lives especially for those who are not outdoors getting sun exposure on a constant basis.
Do Breastfed Babies Need Vitamin D Drops?
Yes, breastfed infants can benefit from vitamin D as well. Although breast milk is a great source of nutrients for your baby, it is often not enough. Partially do to the fact that many mothers are also deficient or borderline deficient in vitamin D3 themselves.
Can I Put Vitamin D Drops in Breast Milk?
Yes, it is safe to add the right vitamin D to your infant's breast milk. Depending on the brand that you choose, it is usually only one drop needed to add to the breast milk so it shouldn't affect the taste of the breast milk at all.
Can Vitamin D Drops Upset Baby's Stomach?
Certain drops that are produced with all types of artificial flavors, artificial preservatives and potential allergens can upset a child's stomach. This is why we provided you with a list of a few options that don't contain these types of ingredients.
When Do You Start Vitamin D Drops For Infants?
You can start with vitamin D drops for your infant within the first week on life. This applies to breastfed babies as well as formula fed babies that don't have added vitamin D. It is essential to healthy bone development as well as other functions. Choosing drops with vitamin K included is recommended by many health care practitioners.
Health care practitioners suggest you administer vitamin D along with vitamin K in the earliest days of development.

What Happens If I Forget To Give My Baby Vitamin D Drops?
It's okay if you miss a day or two here or there, as long as you don't go too long without providing your baby with vitamin D their development will be just fine.
The body has it's own system of providing for it what it doesn't have. Although prolonged deficiency can cause havoc to that system.
How Much Vitamin D Intake is Needed to Avoid Vitamin D Deficiency?
If getting a daily dose of direct sunlight isn't the norm than you can be sure you aren't getting enough vitamin D. The RDA is 400 iu of vitamin D a day.
However, to help naturally increase your vitamin D intake try getting out in the sun a little more.
Best Vitamin D Drops for Your Infant
So, what are the best vitamin D drops for your infant? We hope we've answered that question for you with the information that we've provided by consulting with several healthcare practitioners as well as reading hundreds and thousands of reviews and questions from numerous products.
We wish you and your infant a joyful, vibrant and healthy life.
We hope you enjoyed the information, here is the list again!