Do you want to optimize your health with vitamin K?
Vitamin K is a nutrient that is known to help your blood clot properly and improve bone health, just to name a few benefits. It's found in leafy green vegetables, fermented foods, dairy products, meat, and some cereals. Many people don't get enough vitamin K in their diets, so a supplement can be an excellent way to ensure you're getting the recommended daily amount.
If you're looking for a high-quality vitamin K supplement, you're on the right page. We've researched and tested all the top brands to find the best ones. So whether you're looking for a liquid or pill supplement, we've got something for everyone on this list.
Keep reading for our picks and some frequently asked questions towards the end.
How We Choose The Vitamin K Supplements On Our List
With many "healthy" alternatives on the market, it's challenging to figure out which ones are worth your money.
We're here to assist you. We've spent years talking with healthcare professionals and company owners about vitamin K supplement brands they offer. We've spoken with several holistic doctors and dentists to get recommendations for the most incredible healthy supplements on the market.
We scoured through hundreds of reviews and questions about vitamin K supplement brands so that we could deliver you the most incredible options based on all of our research.
* We do independent research/study, and all opinions are of our own. However, as an Amazon Associate we earn from qualifying purchases made through links on our site. We would love it if you could support our efforts.
#1 - Garden of Life Vitamin K2 and K1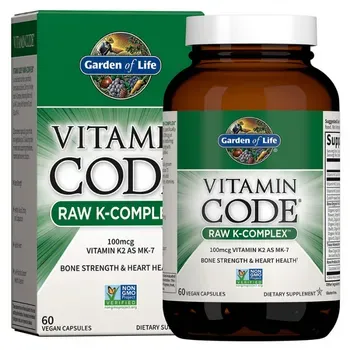 What We Love About It
If you want a whole food, vegan vitamin K supplement that delivers both K2 and K1 for better bone health, try Garden of Life's vitamin K2 and K1 supplement.
This supplement is derived from cold-pressed omega-rich flax seed oil, 23 organically grown fruits and veggies, and 75 alkalizing trace minerals. It also includes a 500 Million CFU Raw Probiotic blend of live probiotics for digestive support.
So not only will you be having the essential benefits of Vitamin K, but you'll also be supporting your overall health with probiotics, antioxidants, and essential vitamins and minerals.
A Few Facts About It
Its serving size is 1 capsule and contains 60 servings per container.
Consuming this product provides you improvement in:
Proper blood clotting and coagulation
Healthy digestion with live probiotics
Bone strength
Cardiovascular health
Their whole food K2 MK-7 supplement for women and men is raw and gluten-free and contains no binders or fillers; it is also Third-Party certified, non-GMO, vegan, and kosher.
#2 - Sports Research Vitamin K2 as MK7 with Organic Coconut Oil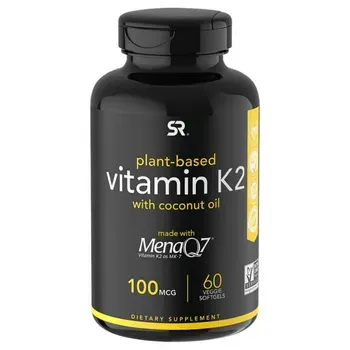 What We Love About It
Sports Research vitamin K2 as MK7 with organic coconut oil is an excellent option formulated with MenaQ7, a patent form of MK7; a double-blind study revealed that it will accumulate in circulation for longer than MK4 and is absorbed ten times faster than vitamin K1.
Most vitamin K supplements are sourced from fermented soybean. Sports Research (SR) Vitamin K2 is naturally derived from fermented chickpea and encapsulated in a tapioca-based plant gel capsule, making it suitable for vegans & vegetarians.
Plus, the addition of coconut oil helps to enhance absorption. Give your health a boost today with Sports Research vitamin K2 as MK7 with organic coconut oil!
A Few Facts About It
Its serving size is 1 liquid veggie soft gel and contains 60 servings per container.
This product is:
Sourced from Fermented Chickpea
Made with clinically tested MenaQ7
The most bioactive form of Vitamin K
Formulated with Organic Coconut Oil
Carrageenan Free Plant Gel Capsule
Non-GMO verified - 3rd Party Tested
#3 - InnovixLabs Full Spectrum Vitamin K2 with MK-7 and MK-4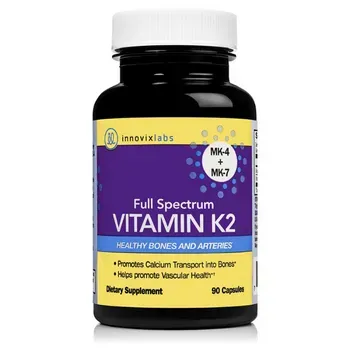 What We Love About It
Looking for a natural way to promote healthy bones? Introducing InnovixLabs full spectrum vitamin K2 with MK-7 and MK-4!
This unique formula helps transport calcium into the most needed areas of the bones. Plus, it's free of K1, which can interfere with blood thinner medications (if this is a concern of yours).
The product includes MK-7 and MK-4 in the bioactive "TRANS" form. There is no mixing of TRANS and CIS forms. The TRANS form is found in nature, as well as foodstuffs, which are recognized and quickly absorbed by the body.
So if you want a safe and effective way to keep your bones healthy and vitamin k levels in balance, try InnovixLabs Full Spectrum Vitamin K2 today!
A Few Facts About It
Its serving size is 1 capsule and contains 90 servings per container.
Other ingredients include:
Extra virgin olive oil
Medium chain triglyceride oil
Gelatin
Glycerine
Purified water
Carob color
This soy and the gluten-free product is manufactured in a cGMP-certified facility for safety and reliability.
#4 - Nutricost Vitamin K2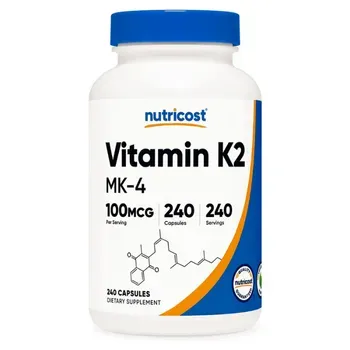 What We Love About It
Vitamin K2 is an essential nutrient that is often neglected in Western diets. Vitamin K2 is used to promote better health in a variety of areas.
Since it is difficult for some to gain sufficient vitamin K2 through their diet, it can be fruitful to take a dietary supplement to ensure that you get enough of this nutrient. Nutricost vitamin k2 is one of the best options.
They have condensed the same amount of active ingredients into a smaller size so you can consume it quickly.
A Few Facts About It
Its serving size is 1 capsule and contains 240 servings per container.
Nutricost vitamin k2:
Uses only the best vitamin K2 MK-4
Is always tested by iso-accredited, independent laboratories
Contains 240 capsules per bottle
Offers a whole serving in each capsule
Contains 100mcg of Vitamin K2 MK-4 in each serving
Is non-GMO, gluten-free
Made in a GMP Compliance Facility
#5 - Life Extension Super K Vitamin K1 and K2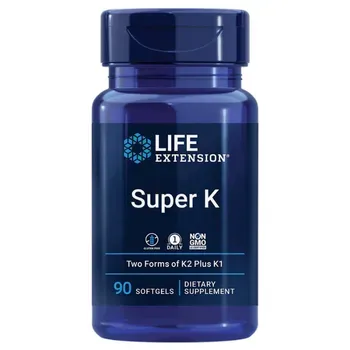 What We Love About It
Do you want to make sure you're getting enough vitamin K1 and K2? Life Extension super K vitamin K1 and K2 is the perfect supplement.
Even if you try to get your nutrient intake from eating leafy greens, it's difficult for your body to absorb vitamin K1.
This supplement delivers a strong dose of 2600 mcg of Vitamin K from both K1 and 2 forms of K2. Vitamin K is important for maintaining your body's calcium equilibrium, impacting almost every aspect of your health. However, it's difficult to get enough vitamin K from foods.
With MK-4 and MK-7, you'll benefit from both fast absorption and long-lasting effects. And because it's sourced from only the finest ingredients, you can be sure you're getting the purity and potency your body deserves.
A Few Facts About It
Its serving size is 1 soft gel and contains 90 servings per container.
Other ingredients include:
extra virgin olive oil,
gelatin
glycerin
beeswax
purified water
carob color
microcrystalline
cellulose
maltodextrin
Their formulations are created using the ingredients and dosages used in the studies that inspired them, ensuring maximum bioavailability and efficacy.
#6 - NOW Supplements Vitamin K-2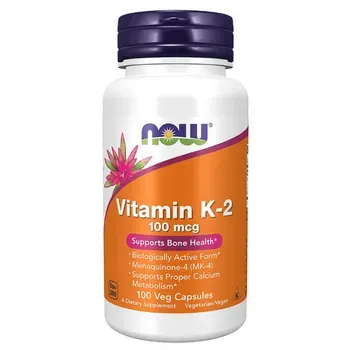 What We Love About It
As we grow, our bones become softer and more prone to breakage. Vitamin K-2 is a biologically active form of vitamin K that helps promote the formation of robust bone health.
This, in turn, supports bone health, bone mineral density, and proper calcium metabolism. Vitamin K-2 also supports arterial health by helping to maintain proper calcium metabolism in vascular structures.
As we get older, it's important to take steps to support our overall health. NOW supplement, Vitamin K-2 is a simple and easy way to help keep your bones strong and your arteries healthy.
A Few Facts About It
Its serving size is 1 capsule and contains 100 servings per container.
This fat-soluble vitamin has been packaged in the USA by a family-owned and operated company since 1968. The NOW manufacturing process has been examined, including their laboratory/testing methods (for stability, potency, and product formulation).
#7 - Thorne Vitamin K - Vitamins K1 and K2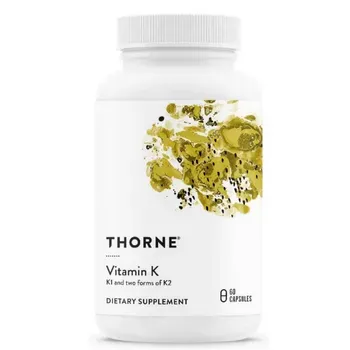 What We Love About It
This top-of-the-line supplement provides your body with vitamins K1 and K2, essential for heart health.
Thorne vitamin K is derived from the purest sources worldwide and is free from artificial preservatives, flavors, colors, and sweeteners. Additionally, Thorne products are always gluten-free and never contain stearates, wheat, rye, barley, eggs, or nuts.
Healthcare professionals and families worldwide trust Thorne supplements because of their commitment to quality and science-backed products.
So if you're looking for a vitamin K supplement you can trust, look no further than Thorne's vitamin K.
A Few Facts About It
Its serving size is 1 capsule and contains 60 servings per container.
It contains significantly more MK-4 than other multiple-K products on the market. They run four rounds of testing for each of their products. They have invested in two state-of-the-art in-house laboratories that allow them to conduct four rounds of testing, while most competitors test only one or two times.
Vitamin K Supplement Frequently Asked Questions
A lot of people are curious about vitamin K supplementation but don't know where to start.
It can be hard to figure out which vitamin K supplement is right for you or how much vitamin K is needed, especially if you're new to this kind of thing.
We've answered some frequently asked questions about vitamin K supplements below to help make things a little bit easier for you.
Which Vitamin K Supplement Brands Are The Best in The Market?
There are a lot of different brands of vitamin K supplements on the market, but not all are equal.
When looking for a vitamin K supplement, choosing one that is pure and has high-quality ingredients is important. The best brands we've found on the market include:
Which is Better, Vitamin K2 MK-4 or MK-7?
Some people find that MK-4 works better, while others find that MK-7 works better.
That being said, most health professionals seem to agree that both MK-4 and MK-7 are beneficial and that it's best to get a mix of both forms to reap the most benefits.
So whichever form of vitamin K2 you prefer, include it in your diet!
Which Form of Vitamin K is Most Potent?
There isn't a definitive answer to this question since different people may have different opinions on what is considered "potent."
However, most experts believe that vitamin K2 is the most potent form of vitamin K. This is because it is more bioavailable than other forms of vitamin K and stays in the body for longer periods of time.
Additionally, vitamin K2 has been shown to be more effective at reducing inflammation and promoting bone health than Vitamin K1. So, if you're looking for a powerful form of vitamin K, vitamin K2 may be your best bet!
What is The Recommended Dosage of Vitamin K?
The recommended daily allowance (RDA) for vitamin K is 90 micrograms/day for men and 75 micrograms/day for women. However, many health experts believe this is too low and that the RDA should be increased to at least 100-120 micrograms/day.
If you are taking a supplement, starting with a lower dose and increasing it gradually as needed is best. It's good practice to consult with your trusted healthcare professional before taking any supplements, especially if you are pregnant or breastfeeding.
What Effects Can Occur Due to Vitamin K Deficiency?
A vitamin K deficiency can have several effects on the body, most notably on blood clotting. Blood clotting can be significantly impaired without sufficient vitamin K, and excessive bleeding can occur. In severe cases, a vitamin K deficiency can lead to death.
Thankfully, this is relatively rare in developed countries where dietary sources of vitamin K are readily available. However, people who take certain medications (such as those designed to prevent blood clots) may be at a larger risk of having a vitamin K deficiency since these drugs can interfere with their absorption. Bone health requires vitamin K, and a deficiency can lead to osteoporosis.
Should I Take D3 And K2 at The Same Time?
Vitamin D3 with vitamin K2 helps guarantee that the calcium carried by vitamin D is absorbed by your bones, where it is needed, rather than accumulating in deposits in your body. Vitamin d supplementation in itself is vital to overall health
By taking Vitamin D3 with Vitamin K2, you are more likely to have the calcium from vitamin D absorbed into your bones.
Many vitamin D products on the market don't possess K2, so it's important to check the labels before purchasing. Finding products that combine D3 and K2 is the most convenient way to take both vitamins.
What Are The Side Effects of Vitamin K2 MK 7?
There are very few known side effects of vitamin K2 MK 7.
Some people who take large doses of vitamin K2 MK 7 (above the recommended daily allowance) have reported minor problems such as diarrhea, constipation, and nausea.
People with a liver disorder or those taking blood-thinning medications should consult their doctor before taking vitamin K2 MK 7, as it may interfere with the medication's effects. As always, pregnant and breastfeeding women should also consult their trusted healthcare practitioner before taking any supplements.
How Long Does it Take K2 to Unclog Arteries?
There was a study done were after six weeks, in the high-dose vitamin K1 or K2 (MK-4) groups, there was no additional arterial calcium buildup, and as a result of this calcification reduction, there was a 37% decrease in previously accumulated arterial calcification.
After 12 weeks of using the product, the group realized a 53% reduction in arterial calcium deposits. This should stand as a good marker of the time frame needed.
Is Menaquinone 7 The Same as Vitamin K2?
Some people may wonder if taking menaquinone 7, also called MK-7, is the same as taking a vitamin K2 supplement. The brief answer is no; they are not the same thing.
Menaquinone 7 is a type of vitamin K2 specifically derived from natto, a Japanese food made from fermented soybeans. Natto contains a surplus amount of vitamin K2, and menaquinone 7 is the most bioavailable form of this nutrient. This means that the body more easily absorbs it.
Vitamin K2 supplements, on the other hand, can be made from different sources, such as cheese or synthetic vitamins. The body may not as easily absorb these supplements as menaquinone 7.
Menaquinone 7 has provided several health benefits, such as reducing the risk of osteoporosis and cardiovascular disease. Vitamin K2 supplements may also offer these same benefits.
When Should I Take K2, Morning or Night?
There is no right or wrong answer to this question since people have different preferences and schedules. Some people prefer to take K2 in the morning so they can start their day with its benefits, while others like to take it at night so they can get a good night's sleep.
Ultimately, it's up to you when you want to take K2 – just make sure you are taking it regularly for the best results.
Best Vitamin K Supplement For You
Getting the required vitamins your body needs from food can be challenging, which is why many people turn to supplements.
If you want you are in search of the top brands of vitamin K supplements, here is our list again: