Looking for a healthy and delicious way to get your elderberry dose? We've got you covered!
This article brings you the five best elderberry gummies that are not only tasty but also packed with antioxidants and Vitamin C.
Not only are these gummies good for you, but they're also some of the most delicious on the market. You'll love their sweet and tangy flavor.
Carefully read through all the provided descriptions to find one that fits your needs.
How We Choose The Elderberry Gummies on Our List
It can be hard to know which health foods are really good for you, and even harder to figure out which ones are worth your time and investment.
But we're here to help. We've spent years discussing products with health food store employees and their owners. We've consulted with dozens of doctors and healthcare experts to get their recommendations for the best health foods on the market.
We even read through thousands of reviews and questions related to these products so that we can bring you the best finds and recommendations based on all the knowledge we've gathered.
* We do independent research/study, and all opinions are of our own. However, as an Amazon Associate we earn from qualifying purchases made through links on our site. We would love it if you could support our efforts.
#1 - Gaia Herbs Black Elderberry Adult Daily Gummies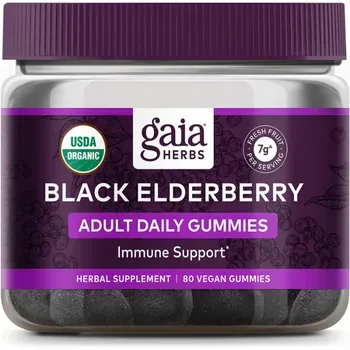 What we Love About it
Gaia Herbs Black Elderberry gummies are a delicious way to support your immune system.
Made from real fruit without any refined sugars, added colors, or flavors, these gummies are naturally delightful. And with 462 mg of organic black elderberry extract concentrate per two gummies, they're a great choice for immune support all year round.
So why not stock up and enjoy the peace of mind that comes with knowing you're doing everything you can to support your health?
A Few Facts About The Product
The product is made up of organic black elderberry fruit juice concentrate along with apple, pomegranate, acai pure, and goji juice concentrate. It also includes rice flour, pectin, sunflower oil, lemon juice, and carnauba wax.
2 gummies per day is the recommended serving for adults and each serving is equivalent to 7.5g of fresh Sambucus elderberries.
#2 - Hyland's Naturals Organic Elderberry Gummies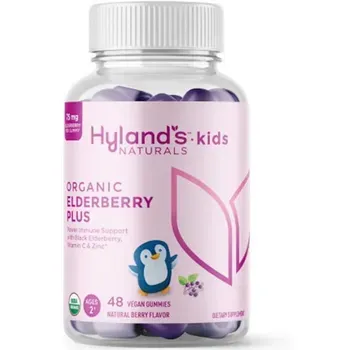 What we Love About it
When it comes to the health of your little ones, you want only the best. Right? Then look no further than Hyland's Naturals Organic Elderberry Gummies.
They are formulated with powerful immune-supportive ingredients like black elderberry, zinc, and vitamin C.
These yummy berry-flavored gummies are USDA-certified organic, gluten-free, vegan, and made with fruit pectin and natural sweeteners.
With Hyland's Naturals Organic Elderberry Gummies, you can rest assured that you're giving your children the best possible support for their developing immune systems.
A Few Facts About The Product
This product is a perfect blend of black elderberry fruit, zinc, and vitamin C.
The formula has specially been prepared for kids' immune support, empowering them to fight various health conditions like cold and flu, etc.
#3 - New Chapter Elderberry Gummies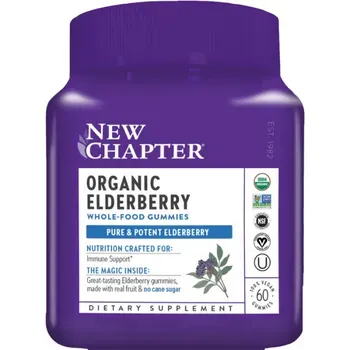 What we Love About it
Looking for an easy way to improve your immune health? Meet New Chapter's Elderberry Gummy Supplement!
These Sambucus elderberry gummies are made with 64x concentrated Black Elderberry extract, which has powerful antioxidant properties from super-dark flavonoids.
They're also sustainably sourced from Austria and naturally sweetened with organic fruit - no cane sugar, no corn syrup, and no agave/organic tapioca syrup.
Plus, they're vegan, gluten-free, gelatin-free, and certified USDA Organic and Non-GMO Project Verified.
So not only do they taste great, you can feel good knowing that you're doing something good for your body!
A Few Facts About The Product
The product includes 64 times concentrated black elderberry fruit extract and is naturally sweetened with organic fruits.
It is both FDA and GMP-complaint which makes these elderberry supplements absolutely safe to use.
#4 - Garden of Life mykind Organics Elderberry Gummies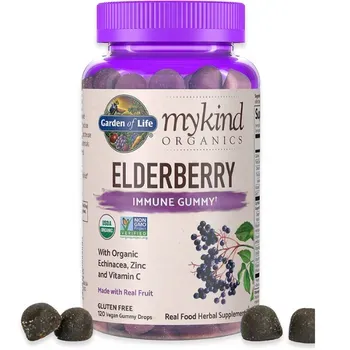 What we Love About it
Looking for an organic, non-GMO elderberry supplement with third-party testing? Try Garden of Life mykind Organics Elderberry Gummies!
These real food gummies are made with whole fruits, roots, and leaves, and are rich in vitamin C and zinc along with echinacea extract.
They use only the best ingredients in their products, so the consumer can be sure that they are getting the best possible quality.
With no synthetic vitamins or artificial ingredients, they are safe for the whole family to take.
Give your body the nourishment it deserves with Garden of Life mykind Organics Elderberry Gummies.
A Few Facts About The Product
The organic black elderberry extract of the product comes from the plant Sambucus nigra, along with whole food vitamins and minerals, such as zinc from organic guava providing natural year-round immune support.
This elderberry supplement is absolutely gluten-free and vegan. Both adults and kids can consume the product as per the recommended dose.
#5 - Sports Research Elderberry Gummies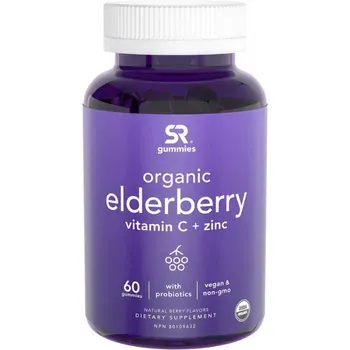 What we Love About it
Sports Research Elderberry Gummies are made with organic black Sambucus elderberry, vitamin C and zinc.
These yummy gummies are also packed with probiotics for gut and immune health. And since they're made with pectin, not gelatin, they're vegan-friendly.
So why not enjoy a delicious way to stay healthy and prevent cold and flu symptoms this winter?
A Few Facts About The Product
This product too is a magical blend of zinc, vitamin c, and elderberry extract. But what makes it stand out is its probiotic content which is great for gut health.
These gummies are derived from whole food and are naturally sweet in taste. Thus, they offer no extra expenditure on cane sugar, organic tapioca syrup, and other enhancers.
Note:
Sadly, two popular products did not make it to our list because of their poor ingredients. They include; sambucol black elderberry gummies and bioschwartz elderberry gummies.
Frequently Asked Questions About Elderberry Gummies
Most people are not sure about elderberry gummies' nature and whether they are right for them or not.
Considering such health concerns of our majority of readers, we've put together a list of the most Frequently Asked Questions about the elderberry and its supplementation.
We've answered some of the most common questions below, we hope this helps.
What is Elderberry?
Elderberry (Sambucus nigra) is a plant that grows in Europe, North America, and parts of Asia. The berries and flowers of the plant have long been used in folk medicine and offer a variety of health benefits.
The medicinal potential of the elderberry is used for viral infections including the common cold, flu, and pneumonia. It is also used for sinus infections, bronchitis, and asthma.
Other uses include reducing inflammation, and treating diarrhea. Some people also use elderberry as a laxative or skin tonic.
What is The Best Form to Consume Elderberry?
Elderberry can be consumed in many different ways.
The most popular way to consume it is by drinking the juice, which can be bought at most health food stores. However, you can also purchase elderberry in capsule form, or you can make a syrup by combining elderberries with honey.
Many popular brands are selling elderberry supplements and gummies that provide an efficient way to reap all the benefits offered by the plant.
Which is The Best Brand For Elderberry Gummies?
If you google this question, you may come across hundreds of options claiming to be the best. However, to save you time, we've done thorough research and picked the 5 best for you.
Are Elderberry Gummies Actually Good For You?
Yes, elderberry gummies are actually good for you!
The berries of the elderberry plant are high in antioxidants, which help to fight free radicals and protect the body from disease. Additionally, elderberry has anti-inflammatory and antiviral properties, making it a great choice for cold and flu season.
So if you're looking for a way to boost your immune system, try adding some elderberry gummies to your diet!
Is it ok to Take Elderberry Gummies Every Day?
Yes, it is definitely okay to take elderberry gummies on a daily basis!
In fact, many people find that elderberry supplements can help boost their overall health and immunity. They work best to prevent colds and flu. It is because of their potent ingredients like elderberry extract, vitamin C and zinc.
Note that the consumer must abide by the recommended dose and should avoid over intake.
Should I Take Elderberry Gummies in The Morning or at Night?
There is no right or wrong answer to this question, it depends on what works best for you.
Some people find that they have more energy if they take elderberry in the morning, while others find that they sleep better at night if they take elderberry before bed.
Experiment and see what works best for you.
Who Should Not Take Elderberry?
There is no absolute contraindication to taking elderberry.
However, as with any drug or herbal remedy, it is always best to check with your trusted healthcare provider before taking it, especially if you have a medical condition or are taking medications.
In general, though, elderberry is considered safe for kids and adults when used appropriately.
What Are The Side Effects of Excessive Consumption of Elderberry?
Excessive consumption of elderberry supplements or gummies can result in diarrhea, nausea, and vomiting. In severe cases, elderberry can cause kidney damage too.
Do Elderberry Gummies Cause Weight Gain?
This is still a debatable topic whether or not elderberry gummies cause weight gain. However, the gummies are usually enhanced in taste using added sugars which might add a few pounds.
But there is a still safer way out. It's best to consume in moderation - overdosing in any way isn't a good idea for anything.
Do Elderberry Gummies Treat Any Disease?
Elderberry gummies are a popular herbal remedy that many people swear by. While there is no scientific evidence to support their efficacy in treating diseases. This could very well just be because of lack of funding.
They definitely have good nutritional content and can help relieve symptoms of allergies and virus infections.
If you're looking for a natural way to acquire a variety of health benefits, these gummies may be worth a try. But you cannot expect them to treat a specific disease.
Best Elderberry Gummies For You
Elderberry is one of the most nutritious foods helping you improve a variety of conditions. If you don't want to consume it wholly, elderberry supplements and gummies are some other safe options to avail of all the benefits.
Here is our list of the top five gummies you must try for a boost in your immune system.
1.      Gaia Herbs Black Elderberry Adult Daily Gummies
2.      Hyland's Naturals Organic Elderberry Gummies
3.      New Chapter Elderberry Gummies
4.      Garden of Life mykind Organics Elderberry Gummies
5.      Sports Research Elderberry Gummies
We hope the information provided was helpful and that you can choose the best product. Thanks for reading!