Are you looking for the best turmeric body scrub brand to give your skin a healthy glow?
Turmeric is an amazing natural ingredient that can help reduce inflammation, even out skin tone, and provide antioxidant protection. With so many brands on the market touting its benefits, it can be hard to know which one is right for you.
Luckily, we've done all the research and found the three great turmeric body scrub brands available today. Keep reading to learn more about these top-rated products and how they can benefit your skin!
How We Choose The Turmeric Body Scrubs on Our List
Finding the right "healthy" product for your body can be a daunting task, and it's not easy to determine which products are worth your hard-earned money.
That's why we have dedicated our time and effort to help you out. We have consulted with countless health and skin care specialists, as well as store owners, to learn more about the many varieties of turmeric body scrubs.
Additionally, we've gone through hundreds of reviews and questions from customers who have tried these products so that we can bring you the most reliable options available.
* We do independent research/study, and all opinions are our own. We may get a small commission if you make a qualifying purchase through one of our links. We would love you to support our efforts.
Our Top Picks For You



#1 - Pure Biology Exfoliating Turmeric Body Scrub for Men and Women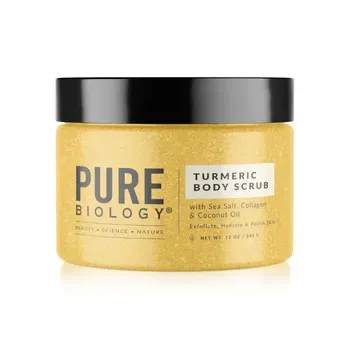 What we Love About It
We love the Pure Biology Exfoliating Turmeric Body Scrub for Men and Women because it provides a comprehensive body care solution. The scrub is packed with nourishing botanical oils, including jojoba, primrose, and sunflower oil, that deeply cleanse and moisturize damaged skin.
It also has hydrating properties that help to minimize the appearance of cellulite. The light lemon scent is refreshing to the anti-aging skin care experience. This cruelty-free product is designed for men and women, making it an ideal addition to anyone's skincare routine.
Another reason to love it is its ability to cleanse and exfoliate the skin deeply. The scrub is formulated with gentle yet effective ingredients that can effectively remove dead skin cells and normalize uneven skin tone, leaving your skin feeling soft and smooth. Regularly using this product allows you to maintain healthier-looking skin without compromising on quality results.
Some Facts About The Product
The net weight of the scrub is 12 Oz (340g).
The ingredients include:
Organic turmeric
Sea salt
collagen
Evening primrose
Meadowfoam oil
The recommended use of this scrub is 2-3 times a week.
#2 - Minimo Skin Essentials Turmeric Face Scrub for Dark Spots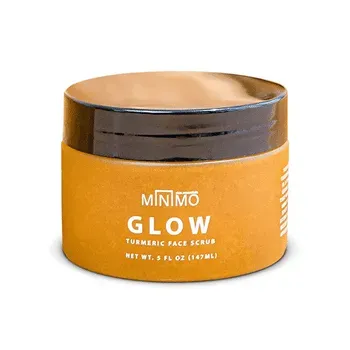 What we Love About It
We love Minimo Skin Essentials Turmeric Face Scrub for Dark Spots because it is specifically designed to address dark spots on the skin. It contains a powerful blend of organic turmeric powder, cinnamon, raw Manuka honey, chamomile extract, lemon extract, and oils that won't clog pores.
These ingredients work together to naturally buff away surface dark spots, soothe irritated skin and give you a healthy, glowing appearance.
The Minimo Glow Turmeric Face Scrub is an exfoliating scrub that all skin types can use. Furthermore, it is formulated with genuine ingredients to ensure the highest product quality and provide youthful-looking results. It's no wonder why this product is a bestseller!
With its powerful blend of natural ingredients, the Minimo Skin Essentials Turmeric Face Scrub is an effective and safe solution to fading dark spots, giving dull dry skin a healthy glow. We can't get enough of this powerhouse product!
Some Facts About The Product
The net weight of the scrub is 5 FL Oz (147ml).
The ingredients include:
Turmeric
Lemon
Raw Manuka Honey
Cinnamon
Chamomile
Abyssinian Oil
Use daily and consistently for 2-3 weeks to get the best results.
#3 - Eclectic Sundays Turmeric Body Scrub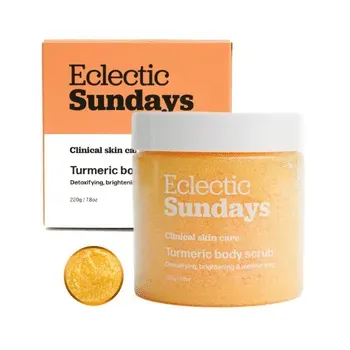 What we Love About It
We love the Eclectic Sundays Turmeric Body Scrub for all its amazing skincare properties. Its powerful antioxidant and anti-inflammatory components, combined with its ability to remove dull, dry, and dead skin cells while hydrating and cleansing your skin.
It works well for all skin types, including sensitive skin, so everyone can enjoy the soft and supple skin it provides. Its ability to fade scars, cellulite and stretch marks leaves you with a glowing, radiant complexion!
The turmeric scrub also locks in moisture and provides a long-lasting hydrating effect. It is suitable for use all over your body to have smooth and silky skin from head to toe!
It is a great way to bring the spa home and indulge in luxurious skincare treatments without leaving your house. You can use it daily or after shaving for a complete exfoliation experience.
When you're done using it, you'll be sure to feel your best and look even better. All these benefits make this one body scrub an ideal choice for anyone looking to give their skincare routine a luxurious touch.
Some Facts About The Product
The net weight of the scrub is 7.8 FL Oz (220g).
The ingredients include Dead Sea Salt, Curcuma Longa (Turmeric) Root Powder, Butyrospermum Parkii (Shea Butter), Zingiber Officinale (Ginger) Root Extract, Vitamin E, Simmondsia Chinensis (Jojoba) Seed Oil, Citrus Limon (Lemon) Seed Oil, Citrus Aurantium Bergamia (Bergamot) Fruit Extract, Lemongrass Essential Oil.
Scoop into your hand, scrub into your skin and rinse.
Frequently Asked Questions About Turmeric Body Scrub
The popularity of turmeric body scrubs is rising as more people discover the benefits of using these products. If you're curious about turmeric body scrubs and want to know more about them, keep on reading, as this section will answer some of the most common questions about these products and skin care.
What Are The Best Brands For Turmeric Body Scrub?
The following are the best body scrub products on the market:
Can I Mix Olive Oil, Turmeric Oil, And Coconut Oil For Skin Care?
You can mix olive oil, turmeric, and coconut oil for skin care. Each oil has its benefits that can help improve your skin health. For example, olive oil is a great moisturizer and helps protect against sun damage.
Turmeric oil is a natural anti-inflammatory agent that can help reduce inflammation and redness. And coconut oil is effective in treating acne and wrinkles.
When applying the oils, massage your skin gently. Additionally, you can add a few drops of lemon juice to help brighten the skin and reduce blemishes. Be sure to leave the mixture on the skin for a few minutes.
It is safe to mix and use these oils together; however, be sure to do so with caution and responsibly.
Can Lemon Essential Oil Be Applied Directly To The Skin?
Lemon essential oil is taken from the skin of lemons and can be used directly on your skin. Lemon oil is a common ingredient in various aromatherapy products. When applying directly to the skin, diluting the lemon essential oil with a carrier oil such as coconut oil or jojoba is common practice.
Diluting the essential oil helps prevent any irritation its concentrated form could cause.
Additionally, avoiding direct exposure to sunlight after applying the diluted oil is recommended. It is also important to pay attention and discontinue use if any side effects occur.
Can I Mix Turmeric With Shea Butter?
Yes, you can mix turmeric with shea butter. Shea butter naturally contains antioxidants and anti-inflammatories, which may aid in treating scars, acne, dark spots, hyperpigmentation, and other conditions.
By infusing turmeric with pure shea butter, your skin will get all of the benefits of turmeric and shea butter. This makes it a great combination for improving your skin health and appearance.
You can find various recipes online to create your homemade turmeric-shea butter blend. It is important that the butter you use is pure to ensure maximum effectiveness when combined with turmeric.
With proper care, this mixture can be used regularly to help keep your skin looking healthy and vibrant.
Can Turmeric Scrub Remove Uneven Skin Tone?
Yes, turmeric scrub can remove uneven skin tone. Its extract may also help reduce dark spots and acne scars.
One study showed that a turmeric extract cream reduced hyper-pigmentation by up to 14 percent after four weeks. Therefore, regular use of turmeric scrub can help even skin tone.
Additionally, it may also be beneficial in lightening acne scars. However, it is important to note that everyone's skin responds differently, and results vary from person to person.
What Are The Most Powerful Essential Oils For Skin Care?
Essential oils are becoming increasingly popular for their many skincare benefits. While the essential oils used in skin care can vary, some stand out for their powerful effects.
Tea Tree Oil
Rosehip Seed Oil
Coconut Oil
Olive Oil
Jojoba Oil
Aloe Vera Gel
Geranium Oil
Ylang Ylang Oil
Rosemary Oil
Can Too Much Turmeric Scrub Turn Your Skin Yellow?
Yes, using too much turmeric scrub on your skin can turn your skin slightly yellow temporarily. Turmeric is a natural brightly-colored spice with many beneficial properties, but it can also cause temporary skin discoloration if used excessively.
To avoid this, it is important to use only the recommended turmeric scrub and not overdo it. Also, please test a small skin patch before applying it all over your body to ensure you don't have any allergies or other adverse reactions.
If you notice your skin turning yellow after using a turmeric scrub, immediately stop and consult a skin care specialist. They can recommend a different or more suitable product or treatment for your skin type.
How Long Does It Take For Turmeric To Remove Dark Spots On The Skin?
It takes about two to four weeks to remove dark spots on the skin. The turmeric must be applied consistently on wet skin for the best results. The length of time it takes for dark spots to fade depends on their cause and severity.
Turmeric contains skin-lightening compounds that can help reduce the appearance of dark spots over time. It's important to remember that everyone's skin is unique, and results may vary from person to person.
For best results, turmeric is recommended in combination with other natural ingredients, such as honey and lemon juice, for maximum effectiveness.
Does Turmeric Help Under Eye Circles?
Yes, turmeric can help to reduce dark circles under the eyes. The anti-inflammatory and antioxidant properties of turmeric help to remove dark circles. Turmeric can be used as a face mask or applied directly to the affected area with some water to help lighten the skin and reduce the visibility of dark circles.
It is important to note that turmeric might not work for all dark circles. So you may need to explore other options if this does not work for you.
Can I Mix Turmeric And Aloe Vera?
Yes, turmeric and aloe vera gel can work wonders for your skin. Aloe vera is a natural moisturizer that helps keep your skin hydrated, while turmeric has anti-inflammatory and antioxidant properties that help reduce inflammation and protect your skin from damage.
Additionally, adding gram flour or fuller's earth to the paste will help absorb excess oil and mattify your skin. To use this combination, mix two to three pinches of turmeric powder into aloe vera gel and add gram flour or fuller's earth to create a thick paste.
Gently apply the mixture to your face, making sure to avoid any sensitive areas. Let it sit for 10-15 minutes before using warm water to wash it off. By doing this regularly, you can help improve the health and overall appearance of your skin.
Other Related Articles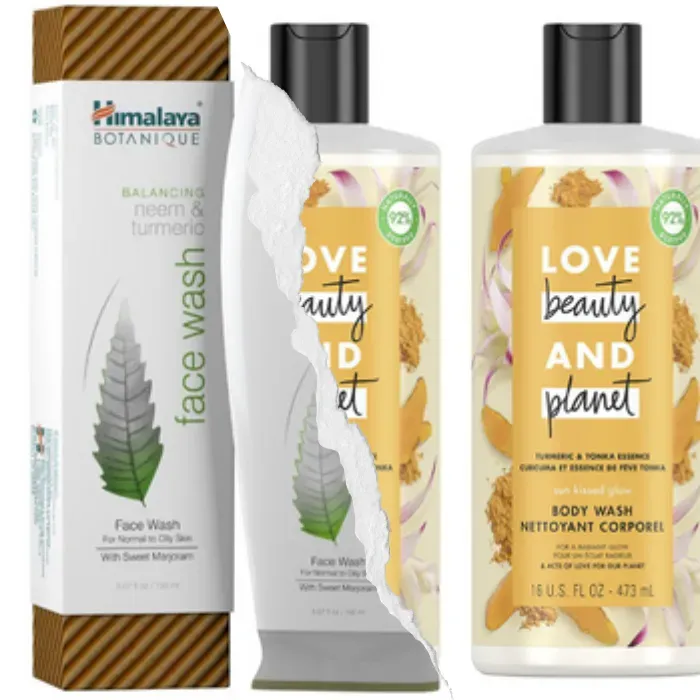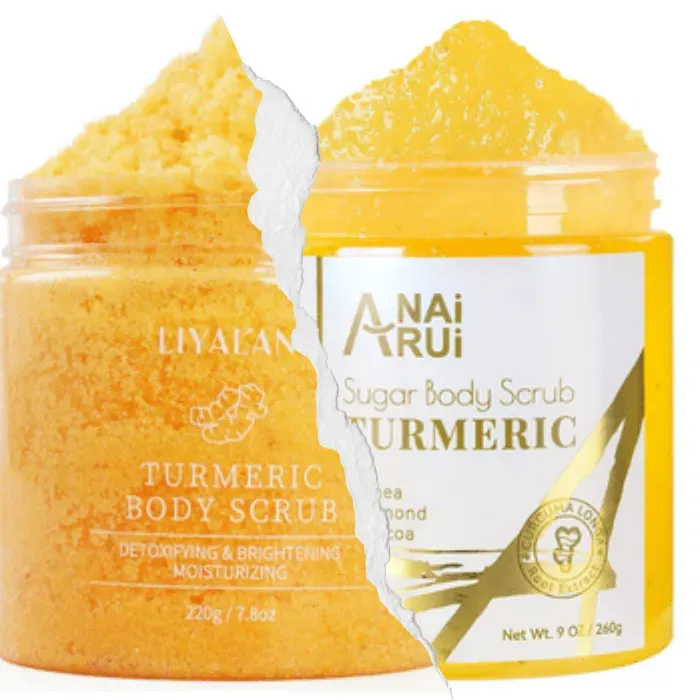 Best Turmeric Body Scrub For You
When finding the right turmeric body scrub, you want something that will exfoliate your skin while also providing anti-inflammatory and antioxidant properties.
In this article, we've shared our top three picks for the best turmeric body scrubs on the market. Each of these brands uses high-quality ingredients and offers excellent customer service. So if you're in the market for a body scrub, check them out!
Here's our list again:
Thank you for reading!