When it comes to keeping your body clean, there are a lot of options to choose from. You can use bar soap, liquid soap; other body washes the list goes on. So which one should you choose?
If you're looking for something that will cleanse and nourish your skin simultaneously, you should try a body wash containing turmeric. Turmeric is a natural anti-inflammatory agent and has antioxidant and antimicrobial properties.
This post will discuss the best turmeric body wash products on the market today. We'll also answer some of the most frequently asked questions about using a turmeric body wash.
So let's get started!
How We Choose The Turmeric Body Wash on Our List
With many "healthy" alternatives on the market, it's tricky to figure out which ones are worth your money.
We're here to assist you. We've spent years talking with healthcare practitioners and skincare store owners about the body wash products they offer. We even ask for recommendations on products that they may not provide.
Then we examine hundreds of reviews and questions about several body wash products so that we can deliver you the most incredible options based on our research.
* We do independent research/study, and all opinions are our own. We may get a small commission if you make a qualifying purchase through one of our links. We would love you to support our efforts.
Our Top Picks For You


#1 - Love Beauty And Planet Body Wash Turmeric & Tonka Essence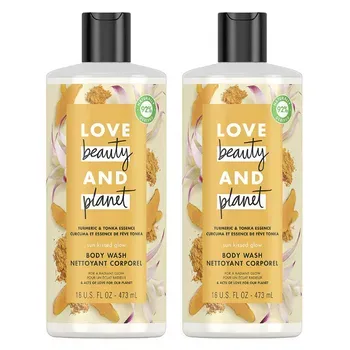 What we Love About It
We love the Love Beauty And Planet turmeric body washes for its vegan body wash formula with ingredients inspired by nature. The product is packed with skin-nourishing ingredients such as coconut oil, ethically sourced extracts, and turmeric, which is known to give you a radiant glow.
A bonus is that this vegan body wash is also free from parabens, silicon, dyes, cruelty, phthalates, and sulfates – making it an excellent choice for sensitive skin. Its lightweight and creamy lather create a light foam that will not clog your pores or strip away natural oils.
Additionally, this body wash can be used as an effective hand soap, offering thorough cleansing without leaving your skin dry or irritated. Overall, this product is an excellent choice for those looking for a body wash that works hard to clean and nourish their skin.
Some Facts About The Product
This body wash comes in packs of two, 473ml each.
The ingredients include:
#2 - Himalaya Neem & Turmeric Wash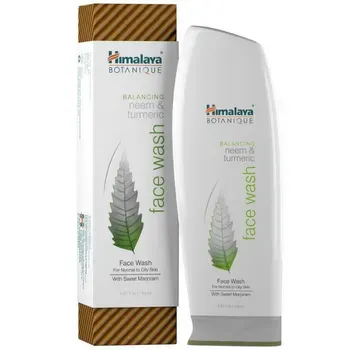 What we Love About It
This Himalaya Neem & Turmeric Wash is an excellent choice for everyone, especially those with normal to oily or acne-prone skin types. It gently removes impurities and leaves skin feeling clean, healthy, and blemish free. It contains herbal ingredients such as neem, turmeric, and sweet marjoram that have calming and soothing properties.
The texture is mild, comfortable, non-drying, and luxurious on the skin, making it a pleasure to use.
Moreover, this product is free from common concerns such as parabens, SLS, phthalates, petroleum, silicones, and artificial fragrances or colors. It is also cruelty-free and has never been tested on animals. You can trust this product to keep your skin refreshed, nourished, and looking its best.
Some Facts About The Product
The packing contains 5.07 Fl Oz of face wash in the form of a gel.
The ingredients include Water (Aqua), Coco Glucoside (from Coconut oil & sugar), Decyl Glucoside (from Palm kernel oil and sugar), Vegetable Glycerin (from Vegetable Oils), Dehydroxanthan Gum (from sugars of corn and soy), Glucose, Citric Acid (found in Citrus fruits), Potassium Sorbate (found in Sorbus Cashmiriana berries), Natural Botanical Fragrance using Essential Oils, Origanum Majorana (sweet marjoram) Leaf Oil, Tocopherol (Natural Vitamin E), Glucose Oxidase, Lactoperoxidase, Melia Azadirachta (neem) Leaf Extract, Curcuma Longa (turmeric) Root Oil.
Frequently Asked Questions About Turmeric Body Wash Products
When it comes to taking care of your body, there are a lot of different products on the market that promise to do everything from cleansing and exfoliating to moisturizing and protecting.
Among these is turmeric body wash, which has been gaining popularity recently, and what are its benefits. Here we answer some common questions about body wash products and skincare.
What Are The Best Brands For Turmeric Body Wash Products?
The following are the best brands for turmeric body wash products on the market:
Can Turmeric Soap Remove Dark Spots From The Skin?
Dark marks can potentially be caused by sun exposure and other factors. Over time, the skin's natural pigment cells, called melanocytes, die and are not replaced as quickly as they used to be.
The dead cells can accumulate on the skin. Soap made from organic turmeric root can help with this issue by exfoliating the skin and helping to moisturize it.
What Is The Difference Between Turmeric Body Soap And Body Scrub?
The main difference between turmeric body soap and a turmeric scrub is that the body soap is more of a gentle cleanser, while the scrub is more abrasive.
The body soap usually contains saponified coconut and olive oil, both natural cleansers. The scrub usually contains sugar, salt, and ground turmeric, all abrasive ingredients that help remove dead skin cells.
Turmeric body soap will help cleanse your skin and prevent bacteria from forming, while the scrub can be used as an exfoliant.
Difference Between Turmeric Extract And Turmeric Powder, Which Is Best For The Skin?
The difference between turmeric extract and turmeric powder is that the extract is more potent because it's been concentrated. Both are beneficial for the skin, but the extract has a stronger effect.
Depending on the concentration of the extract, it can be more effective than turmeric powder. Turmeric extract is ideal for treating specific skin conditions or wanting a stronger effect.
What Is Turmeric Essential Oil Used For?
Turmeric essential oils are used for various purposes, including culinary applications, skincare, and hair care. It has a warm, earthy smell and can add flavor to food or support the health of your skin and hair. Additionally, turmeric essential oil may help promote relaxation and ease stress.
It can be used topically or aromatically; some people use it in massage oils. The antibacterial properties of turmeric essential oil make it a great choice for treating skin problems such as acne, blemishes, and wrinkles. It may also help nourish your hair and scalp.
Can I Use Salicylic Acid With Turmeric?
Yes, you can use salicylic acid with turmeric. They are both antibacterial and work well together to help clear up skin. Combining the two ingredients in a body wash will help reduce breakouts, soothe and condition the skin, and establish a clearer skin tone.
When using this body wash, it is essential to be mindful of your skin's pH balance, as turmeric can be slightly acidic. To ensure maximum efficacy, it is recommended to use the body wash twice a day.
By doing this, you can enjoy the full benefits of salicylic acid and turmeric extract. Sun exposure may cause increased sensitivity to turmeric's active component, curcumin.
Does Turmeric Help Under Eye Circles?
Yes, turmeric helps reduce dark circles due to its antioxidant and anti-inflammatory properties. In addition, turmeric can also help improve skin complexion. However, it is essential to note that turmeric may not be effective for everyone, so it's best to consult a skin care professional before using it.
Also, do a patch test on your skin first to check for allergies or sensitivities. If you find no reaction and wish to use turmeric around the eye area, then use a small amount of turmeric powder mixed with almond oil or rose water and apply it under the eyes.
Leave it on for a few minutes, and then rinse it off with cool water. Regular use of this remedy should give you visible results. However, if the dark circles persist, you may need to seek more professional help.
Keep in mind that while turmeric is beneficial, it is not a miracle cure and must be used cautiously. Be sure to purchase only high-quality turmeric powder free from harmful additives before using it for topical application.
Additionally, stop immediately if you experience a burning sensation or irritation when applying the remedy, and rinse the area with cool water. As always, speak to your trusted healthcare practitioner about any medical conditions or concerns before using turmeric.
Other Related Articles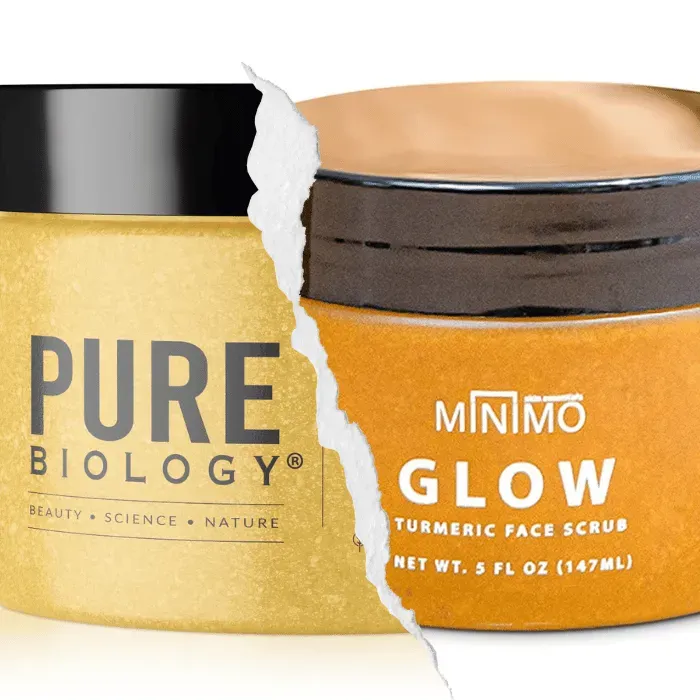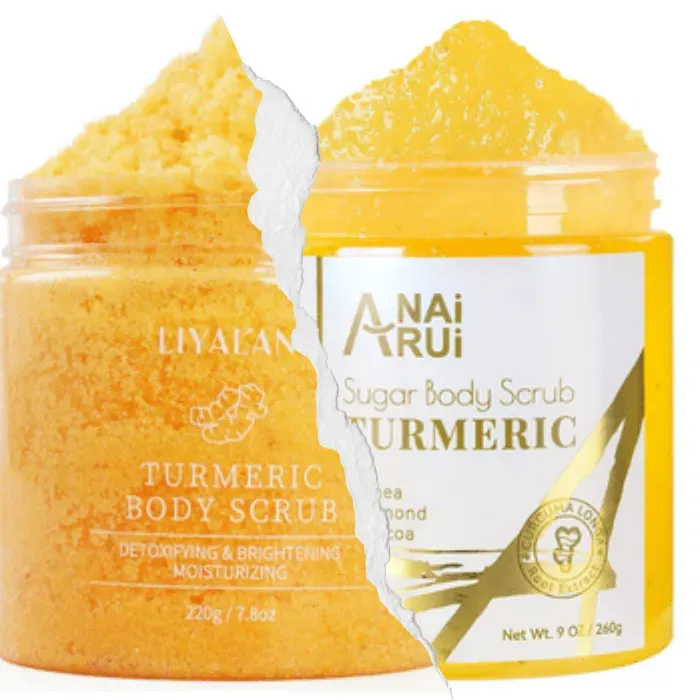 Best Turmeric Body Wash Products For You
There are only a few options on the market today for turmeric body wash products. You can research and find a product that meets all of your needs, or you can rely on our opinion and go with one of the two recommended products. We've tried out a lot of different turmeric body washes over the years, and have narrowed it down to two.
Here's our list again:
Thank you for reading!