In this blog post, we will be exploring the four best organic turmeric soap brands on the market today.
We'll discuss their ingredients and benefits and answer some frequently asked questions about turmeric soap. With this information in hand, you'll be able to make an informed decision when it comes time to choose which brand is right for you!
How We Choose The Organic Turmeric Soap on Our List
With many "healthy" alternatives on the market, it's challenging to figure out which ones are worth your money.
We're here to assist you. We've spent years talking with healthcare practitioners and health food store owners about the organic turmeric soap they offer. We even ask for recommendations on products that they may not offer.
Then we examine hundreds of reviews and questions about several organic turmeric soap products so that we can deliver you the most incredible options based on our research.
* We do independent research/study, and all opinions are our own. We may get a small commission if you make a qualifying purchase through one of our links. We would love you to support our efforts.
Our Top Picks For You




#1 - Aspen Kay Naturals Organic Turmeric Soap Bar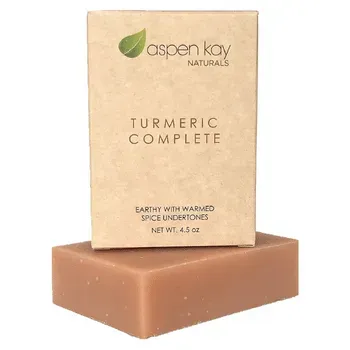 What we Love About It
Aspen Kay Naturals Organic Turmeric Soap Bar is a wonderful addition to an organic skincare routine, providing numerous benefits for the skin.
It contains organic unrefined shea butter, organic extra virgin olive oil, organic turmeric root powder, extract, and 100% pure turmeric root essential oil.
It is gentle enough for even the most sensitive skin types, making it great for all genders and ages. It can be used on both the face and body.
We love this product's plethora of health benefits due to its high-quality natural and organic ingredients.
Besides its moisturizing properties, which are great for keeping skin looking healthy and youthful, it also helps to protect against infections due to the anti-inflammatory agents in turmeric.
In addition, by adding 100% organic turmeric essential oil, Aspen Kay Naturals has provided an extra dose of antioxidant protection to help fight free radical damage caused by environmental toxins that can lead to premature aging.
Overall, this soap bar provides a bounty of health-boosting components in one package that are both natural and safe for all skin types.
With its fantastic smell and luxurious lather, Aspen Kay Naturals Organic Turmeric Soap Bar adds an enjoyable element to your daily organic skincare routine while providing incredible benefits for skin health - definitely something we can get behind!
Some Facts About The Product
The net weight of this soap bar is 4.5 oz.
Other ingredients include:
Organic Turmeric Extract
Organic Turmeric Powder
Organic Chamomile Extract
Turmeric Essential Oil
Organic Olive Oil
Organic Calendula Extract
Organic Shea Butter
Coconut Oil
#2 - iHeart Nature Organic Turmeric Soap Bar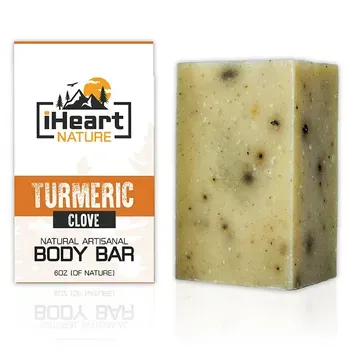 What we Love About It
The iHeart Nature Organic Turmeric Soap Bar is a luxurious and natural way to nourish and beautify your skin.
Loaded with curcumin, an antioxidant-rich plant compound, this soap bar helps reduce the appearance of pores and minimize the look of blemishes, scars, and other marks on the skin.
It contains organic turmeric root extract, powder, and essential oil to help nourish the skin, while clove buds provide gentle exfoliation.
Additionally, it is formulated by physician healers who incorporate healing botanical herbs from Ayurveda that are ethically sourced to provide powerful synergistic effects. The soap bar is further enriched with cocoa butter and olive oil for added hydration.
Suitable for all skin types—including dry, oily, or sensitive—the long-lasting 6 oz bar soap lasts three times longer than regular soaps. With its spicy yet earthy aroma of clove aromatherapy, this handmade artisanal product is created with love in America.
Furthermore, its packaging ensures that each soap bar comes out rich in nutrients to maximize your skin's benefits while giving you the best value per ounce.
Thanks to these powerful characteristics and more, this soap bar allows you to get a healthy glowing complexion at an affordable price.
Some Facts About The Product
The net weight of this soap bar is 6 oz.
Other ingredients include:
Turmeric
Coconut Oil
Cocoa Butter
Clove Buds
Olive Oil
Rosemary
#3 - Natrulo Organic Turmeric Soap Bar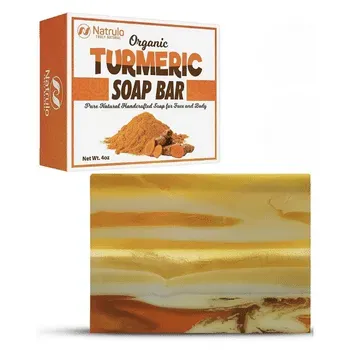 What we Love About It
We love Natrulo Organic Turmeric Soap Bar because it is a natural, handmade soap made with raw turmeric powder and many other beneficial ingredients.
It is made in the USA using pure ingredients free of phthalates, additives, synthetics, and artificial fragrances.
Not only is it gluten-free and vegan, but it also contains Calendula, which soothes and moisturizes the skin, and French Sea clay, which gives the soap detoxifying powers.
This unique combination helps to reduce redness, itchiness, and irritation while providing a gentle cleansing action that can help lighten the skin.
The turmeric powder works to buff away dullness and dark tones for a brighter complexion that radiates a gorgeous glow. In addition to its skincare benefits, it is ethically sourced from fair trade palm oil for the ultimate peace of mind when purchasing this product.
Overall, we adore Natrulo's Organic Turmeric Soap Bar and its ability to provide natural skincare that is both effective and ethical.
We recommend it to anyone looking for a natural, handmade soap to help soothe, hydrate, and lighten the skin. It is suitable for all genders and ages, making it great for everyone in the family.
Some Facts About The Product
The net weight of this soap bar is 4 oz.
Other ingredients include:
Turmeric Powder
Aloe Vera
French Sea Clay
Calendula Flower
Olive Oil
Kosher Glycerin
Kokum Butter
Safflower Oil
Castor Oil
Coconut Oil
Dampen & rub the turmeric soap bar between your palms to develop a lather for washing the face & body.
Leave lather on the skin for 10-30 seconds to use as an acne spot treatment or turmeric face mask. Rinse & pat dry.
#4 - Dermaxgen Organic Turmeric Soap Bar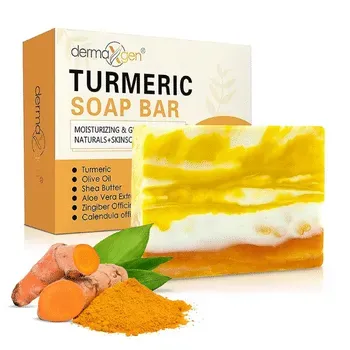 What we Love About It
We love the Dermaxgen Organic Turmeric Soap Bar for its unique blend of turmeric and natural ingredients.
This soap's antioxidant properties help revive and boost the skin while minimizing expression lines, wrinkles, age spots, sagging skin, and collagen loss. This helps to reduce premature aging and restore a youthful complexion.
The soap also helps to purify, cleanse and detoxify the skin leaving it soft, hydrated, and protected. It is great for treating acne as it helps remove toxins and excess oils from the skin and heal acne scars.
Furthermore, the combination of olive oil, ginger extract, and glycerin in this soap helps it act as a humectant that works to retain moisture on the skin's surface. This makes it incredibly effective in relieving dryness and boosting hydration for dry skin.
Some Facts About The Product
The net weight of this soap bar is 7 oz.
Other ingredients include:
Turmeric
Olive Oil
Zingiber Officinale Oil
Shea Butter
Calendula officinalis Extract
Aloe Vera Extract
Frequently Asked Questions About The Organic Turmeric Soap
Organic Turmeric Soap is a natural, gentle soap used for centuries to provide skincare benefits. It contains turmeric, which is known to have anti-inflammatory and antioxidant properties.
This soap can help soothe irritated skin, reduce redness and blemishes, and even out your complexion. If you're interested in trying Organic Turmeric Soap but still have questions about it, here are the answers to some of the most frequently asked questions.
What Are The Best Brands For Organic Turmeric Soap?
The following are the best brands of organic turmeric soap on the market:
Is Turmeric Soap Good For Your Skin?
Yes, turmeric soap is good for your skin. It can help reduce skin inflammation and repair damage while also soothing the pores and providing a calming effect.
Additionally, turmeric has antioxidant and antiseptic properties, which can offer many benefits to the skin. Therefore, turmeric soap can benefit those with acne-prone or otherwise irritated skin.
However, testing any new product before regularly applying it to your skin is important. Consult with a skin specialist if you have any concerns about using turmeric soap.
For best results, look for soaps made from natural ingredients that do not contain harsh chemicals or artificial fragrances.
Is Turmeric Soap Organic?
Most turmeric soaps are made with natural and organic ingredients and is therefore considered an organic product.
They contain various natural botanicals known to provide beneficial properties for the skin, such as turmeric powder, olive oil, coconut oil, shea butter, and essential oils.
How Long Should I Leave Turmeric Soap On My Face?
Turmeric face packs should be removed from the face within 20 minutes to avoid skin discoloration.
This is especially important for those with light or sensitive skin, as turmeric tends to give everything it touches a yellow tint.
Leaving the turmeric on your face for longer than 20 minutes may cause temporary skin discoloration and discomfort.
How Long Does Turmeric Soap Take To Work On Skin?
On average, it takes at least 1 to 2 months before you notice the positive effects of using turmeric soap on your skin, depending on the current condition of your skin.
Generally, it is recommended to use the soap daily for the best results. If you continue using the soap regularly, you should start noticing improvements in your skin's clarity, elasticity, and overall health.
Additionally, it is important to note that everyone's skin is different and may respond differently to the same product. As such, it is important to be patient and consistent with your skincare routine to see the wonderful skin benefits possible.
Can I Leave Turmeric Soap On My Face Overnight?
No, leaving turmeric soap on your face is not recommended overnight. Turmeric has the propensity to stain lighter skin and could cause skin discoloration if left on too long. If staining occurs, try washing your face with milk to help remove it.
Other Related Articles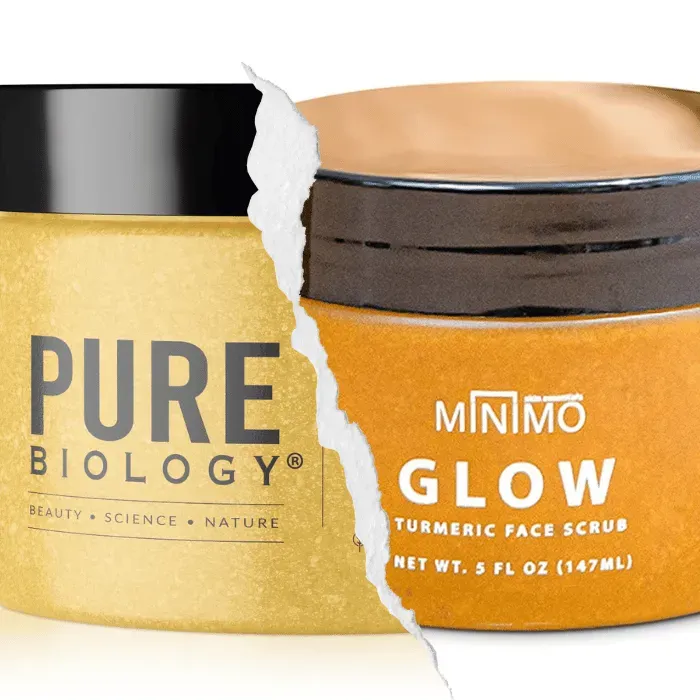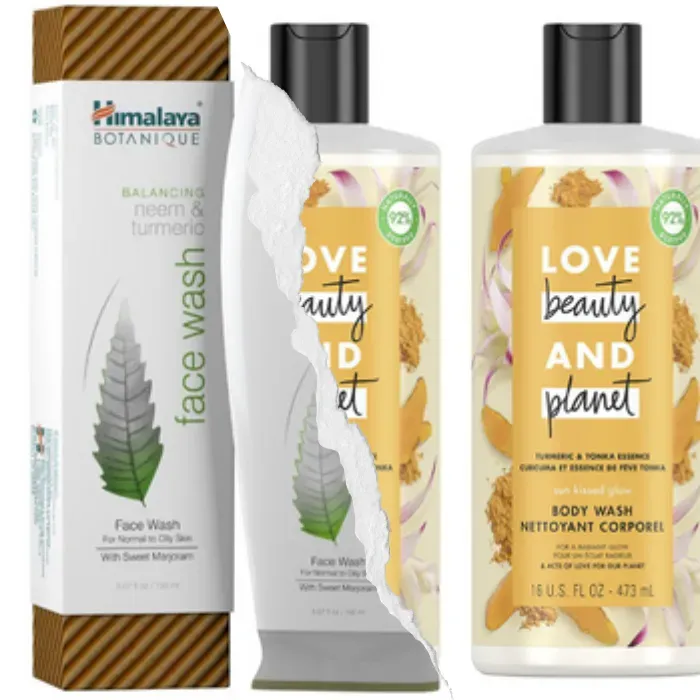 Best Organic Turmeric Soap For You
Organic turmeric soaps are a great way to add some natural, healthy ingredients to your daily skincare routine.
We've highlighted four organic turmeric soap brands on the market today, each with unique benefits and features that make them stand out from the rest.
Whether you're looking for an anti-aging or antibacterial solution or want to indulge in luxurious lathers, there's one here that will suit your needs perfectly!
Here's our list again:
Thank you for reading!